By Divine Right (Novella) (Darkwater Saga Series)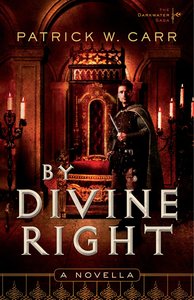 Willet Dura ekes out a living as an assistant reeve in the city of Bunard, the royal city, investigating minor and not-so-minor crimes in the poor quarter. Ever since a terrible battle, Willet's been drawn to the dead, and has an uncanny ability not only to solve their crimes, but even to know when one has been committed.

When a gifted singer is found dead in the merchants' quarter of the city, everyone assumes by the signs that the old man simply died of a stroke, but Willet's intuition tells him better. When he learns that this is the second death within the last month of one of the gifted, those with a rare inherited ability, he begins to suspect that something more is afoot, and he soon finds himself chasing a mystery that could bring down the very kingdom of Collum.

- Publisher
You May Also Be Interested In
About "By Divine Right (Novella) (Darkwater Saga Series)"
Willet Dura ekes out a living as an assistant reeve in the city of Bunard, the royal city, investigating minor and not-so-minor crimes in the poor quarter. Ever since a terrible battle, Willet's been drawn to the dead, and has an uncanny ability not only to solve their crimes, but even to know when one has been committed.

When a gifted singer is found dead in the merchants' quarter of the city, everyone assumes by the signs that the old man simply died of a stroke, but Willet's intuition tells him better. When he learns that this is the second death within the last month of one of the gifted, those with a rare inherited ability, he begins to suspect that something more is afoot, and he soon finds himself chasing a mystery that could bring down the very kingdom of Collum.
- Publisher


Meet the Author
Patrick W Carr
patrick w carr teaches high school math and makes his home in tennessee, with his wife, mary, and their four sons.
Other Titles In The "Darkwater Saga Series" Series View All