Call Me Crazy, But I'm Hearing God's Voice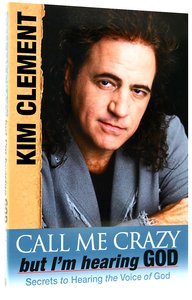 Kim Clement shares his development and journey as a modern day prophet. Hearing from God is not for your own satisfaction and edification, nor even for the Church but that you may become the voice of God to your world.Call Me Crazy, But I'm Hearing God's Voice gives examples of the Clement's years of experience being the voice of God in the most unexpected places, along with practical advice to readers on how they can move in that same anointing. It is not just for a chosen few. The reader will also be interested to read of many prophecies the author has given that have been fulfilled.

- Publisher
You May Also Be Interested In
About "Call Me Crazy, But I'm Hearing God's Voice"
Kim Clement shares his development and journey as a modern day prophet. Hearing from God is not for your own satisfaction and edification, nor even for the Church but that you may become the voice of God to your world.Call Me Crazy, But I'm Hearing God's Voice gives examples of the Clement's years of experience being the voice of God in the most unexpected places, along with practical advice to readers on how they can move in that same anointing. It is not just for a chosen few. The reader will also be interested to read of many prophecies the author has given that have been fulfilled.
- Publisher


Meet the Author
Kim Clement
Kim Clement is a prophet and musician who brings hope to people and nations worldwide through television appearances, concerts, and spiritual gatherings. Through a unique blend of music and prophetic emergence, Kim's project in Holllywood, California, "Secrets," demonstrates the modern-day expression of the prophet. Born in South Africa, Kim and his wife, Jane, now live in Los Angeles, California, with their five children.