Called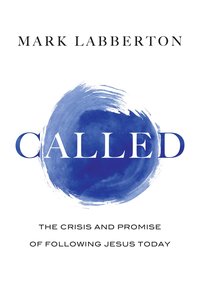 :The most urgent call upon God's people is to live as followers of Jesus. The most indicting critique against the church is as simple: its failure to do so. As the leader of an evangelical theological seminary that trains men and women as leaders for the church and society, Mark Labberton writes: "People ask many questions about how their lives relate to the world. What are our lives in this world about? What are we to make of being human? Why are we here? Is there a reason we are alive, and, if so, how would we know what that is? These questions are brought on at times by beauty and joy, but also by the daunting facts of our own lives or of the world around us. We look around in doubt, in pain, in suffering. These are human questions asked throughout history by those inside and outside the church." We long to renew our hope for a world broken and hurting. And it is we, God's people living in the power of the Holy Spirit, who are called to become this hope. Here is the crisis: we are made and redeemed for this calling, but it slides through our fingers. Here is the promise: living and practicing who and why we are is our Christian vocation whenever and wherever we may be. Will you answer the call?

- Publisher
You May Also Be Interested In
About "Called"
:The most urgent call upon God's people is to live as followers of Jesus. The most indicting critique against the church is as simple: its failure to do so. As the leader of an evangelical theological seminary that trains men and women as leaders for the church and society, Mark Labberton writes: "People ask many questions about how their lives relate to the world. What are our lives in this world about? What are we to make of being human? Why are we here? Is there a reason we are alive, and, if so, how would we know what that is? These questions are brought on at times by beauty and joy, but also by the daunting facts of our own lives or of the world around us. We look around in doubt, in pain, in suffering. These are human questions asked throughout history by those inside and outside the church." We long to renew our hope for a world broken and hurting. And it is we, God's people living in the power of the Holy Spirit, who are called to become this hope. Here is the crisis: we are made and redeemed for this calling, but it slides through our fingers. Here is the promise: living and practicing who and why we are is our Christian vocation whenever and wherever we may be. Will you answer the call?
- Publisher


Meet the Author
Mark Labberton
Mark Labberton (Ph.D., University of Cambridge) joined Fuller Theological Seminary faculty in 2009 as Lloyd John Ogilvie Associate Professor of Preaching and Director of the Lloyd John Ogilvie Institute of Preaching after 16 years of service as senior pastor of First Presbyterian Church of Berkeley, California. Dr. Labberton has been involved in ministry for over 30 years and has spoken before a broad range of audiences, including numerous conferences and events for the Presbyterian Church (USA), InterVarsity Christian Fellowship, the National Pastors Convention, and the International Justice Mission. He has also taught courses at New College Berkeley for Advanced Christian Studies.
In 1982 Labberton co-founded the Christian International Scholarship Foundation (CISF) - an organization funding the advanced theological education of Christian leaders from the Majority World, including executives of relief organizations, college and seminary faculty, and denominational presidents - and served on the board of CISF for 17 years. He has also worked closely with John Stott Ministries, the U.S. member of Langham Partners International, which provides books, scholarships, and seminars for Majority World pastors. Labberton served as chair of John Stott Ministries from 2001 to 2004 and co-chair of the John Stott Ministries Global Initiative Fund from 2004 to 2007. Today he continues to contribute to the mission of the global church as a senior fellow of the International Justice Mission.
Labberton recently published The Dangerous Act of Worship: Living God's Call to Justice (2007), and in early 2010, InterVarsity Press will be releasing his next book on worship and the injustices of the heart, which he sees as the bedrock of much public injustice called The Dangerous Act of Loving Your Neighbor: Seeing Others Through the Eyes of Jesus. He has published articles in periodicals such as Christianity Today; Radix, and Leadership Journal, the latter which he also serves as contributing editor.
Table Of Contents
:preface

Introduction

1. Called To Flourish

2. A Lost Church In A Lost World

3. The Primary Call

4. Relocating: Where Are We Called?

5. Reorienting: How Are We Called?

6. Refocusing: To Whom And What Are We Called?

7. The Way Of The Beloved

8. The Way Of Wisdom

9. The Way Of Suffering

10. So What Does God Call Me To Do?

Epilogue: Light And Salt