Called to Protect (#02 in Blue Justice Series)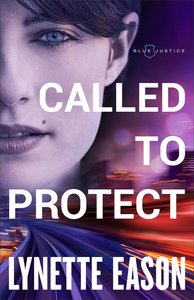 For the past year, Chloe St. John has been working as a K-9 cop with her German shepherd partner, Hank. After being dumped by her fiancé for another woman, Chloe has decided that Hank is just about the only male she likes. She's over the whole romance thing and focuses her attention on doing her job. Because a serious case of human trafficking with connections to her missing cousin just landed in her lap.

When US Marshall Blake MacCallum's daughter goes missing, he's ordered to kill the judge he's protecting and tell no one about his daughter's disappearance or she will die. Blake races against the clock to rescue his daughter while Chloe and Hank are asked to be a part of the task force assembled to bring down the traffickers. Chloe finds herself attracted to the silent, suffering man, but thanks to her previous bad judgment, she wonders if she can trust him. And can Blake trust himself around this firecracker of a woman?

Bestselling author Lynette Eason warns readers to buckle in for a fast and furious ride that will have their hearts pumping from the very start.

- Publisher
You May Also Be Interested In
About "Called to Protect (#02 in Blue Justice Series)"
For the past year, Chloe St. John has been working as a K-9 cop with her German shepherd partner, Hank. After being dumped by her fiancé for another woman, Chloe has decided that Hank is just about the only male she likes. She's over the whole romance thing and focuses her attention on doing her job. Because a serious case of human trafficking with connections to her missing cousin just landed in her lap.

When US Marshall Blake MacCallum's daughter goes missing, he's ordered to kill the judge he's protecting and tell no one about his daughter's disappearance or she will die. Blake races against the clock to rescue his daughter while Chloe and Hank are asked to be a part of the task force assembled to bring down the traffickers. Chloe finds herself attracted to the silent, suffering man, but thanks to her previous bad judgment, she wonders if she can trust him. And can Blake trust himself around this firecracker of a woman?

Bestselling author Lynette Eason warns readers to buckle in for a fast and furious ride that will have their hearts pumping from the very start.
- Publisher


Meet the Author
Lynette Eason
Lynette Eason grew up in Greenville, SC and now lives in Spartanburg, SC. She is married and has two precious children, Lauryn and Will. Lynette is a full time writer. Lynette enjoys visits to the mountains, hanging out with family and brainstorming stories with her fellow writers. She gives God the glory for her giving her the talent and desire to spin stories that bring readers to the edge of their seat and to the throne of Christ.
Other Titles In The "Blue Justice Series" Series