Called to Reach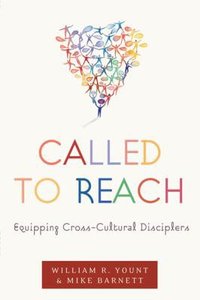 What's a cross-cultural discipler? It's someone who crosses distinct cultural barriers--whether at home or abroad--to share the gospel and develop other effective Christian disciples. Think of the apostle Paul who was born into a Jewish heritage but preached in Greece and Rome among other places, or modern day missionaries, both short-term and long-term, who bravely go where God sends them despite the challenges of language and lifestyle differences when they get there. Called to Reach is a much-needed book of encouragement and training for cross-cultural disciplers new and old. Based on the authors' dynamic experiences, it defines seven characteristics that best enhance the effectiveness of disciplers in overcoming cultural barriers and emphasizes the importance of personally growing in spiritual maturity with every outreach opportunity. Throughout, Jesus is presented as the model cross-cultural discipler, for he left the culture of heaven to disciple us in our earthly culture.

- Publisher ""Called to Reach is a much-needed book of encouragement and training for cross-cultural disciplers (teachers/missionaries) emphasizing seven key characteristics of effective Gospel-sharing and the ongoing importance of a discipler's own spiritual growth.

- Publisher
You May Also Be Interested In
About "Called to Reach"
What's a cross-cultural discipler? It's someone who crosses distinct cultural barriers--whether at home or abroad--to share the gospel and develop other effective Christian disciples. Think of the apostle Paul who was born into a Jewish heritage but preached in Greece and Rome among other places, or modern day missionaries, both short-term and long-term, who bravely go where God sends them despite the challenges of language and lifestyle differences when they get there. Called to Reach is a much-needed book of encouragement and training for cross-cultural disciplers new and old. Based on the authors' dynamic experiences, it defines seven characteristics that best enhance the effectiveness of disciplers in overcoming cultural barriers and emphasizes the importance of personally growing in spiritual maturity with every outreach opportunity. Throughout, Jesus is presented as the model cross-cultural discipler, for he left the culture of heaven to disciple us in our earthly culture.
- Publisher

""Called to Reach is a much-needed book of encouragement and training for cross-cultural disciplers (teachers/missionaries) emphasizing seven key characteristics of effective Gospel-sharing and the ongoing importance of a discipler's own spiritual growth.
- Publisher


Meet the Authors
William R Yount
William "Rick" Yount is professor and assistant dean of the Foundations of Education division, School of Educational Ministries, Southwestern Baptist Theological Seminary. He lives with his wife in Fort Worth, Texas.
Mike Barnett
Dr Mike Barnett is Elmer V. Thompson Professor of Missionary Church Planting at Columbia International University. Dr. Barnett teaches courses on church planting movements, leadership and teams, creative access (business and missions), and the history of the church. He served 12 years with the International Mission Board of the Southern Baptist Convention working in the 10/40 Window. Previously he served as a minister of missions and church planter in North America. He has a business background and continues to work in international business development.
Dr. Barnett recently co-authored Called to Reach: Equipping Cross-Cultural Disciplers ( Broadman & Holman, 2007). He also co-edited The Centrality of Christ in Contemporary Missions (EMS Society Series Number 12, William Carey Library, 2005); and Business as Mission: From Impoverished to Empowered ( EMS Series Number 14, William Carey Library, 2006.)