Calvin For Armchair Theologians (Armchair Theologians Series)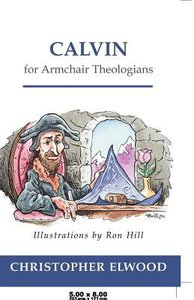 184 Pages

- Publisher An insightful and accessible overview of Calvin's key teachings within his historical context, with special attention to theological controversies associated with the Trinity and predestination. Elwood traces the ways that Calvinism developed and its influence in today's world. Illustrations are interspersed throughout the text and humorously illuminate key points providing an engaging introduction to this important theologian.

- Publisher An introduction to the life and main teachings of John Calvin (1509-1564), this book blends Calvin's theology into the story of his life to provide those with no knowledge of the Genevan reformer with a concise picture of his key theological views. Illustrations illuminate the author's text.

- Publisher
Also Available In
You May Also Be Interested In
About "Calvin For Armchair Theologians (Armchair Theologians Series)"
184 Pages
- Publisher

An insightful and accessible overview of Calvin's key teachings within his historical context, with special attention to theological controversies associated with the Trinity and predestination. Elwood traces the ways that Calvinism developed and its influence in today's world. Illustrations are interspersed throughout the text and humorously illuminate key points providing an engaging introduction to this important theologian.
- Publisher

An introduction to the life and main teachings of John Calvin (1509-1564), this book blends Calvin's theology into the story of his life to provide those with no knowledge of the Genevan reformer with a concise picture of his key theological views. Illustrations illuminate the author's text.
- Publisher


Meet the Author
Christopher Elwood
Christopher Elwood is Professor of Historical Theology at Louisville Presbyterian Theological Seminary in Louisville, Kentucky.
Other Titles In The "Armchair Theologians Series" Series View All
$29.99




Available 0 Available. Expected to ship in 1 week from Australia.

Formats

$25.99




Available Now. 1 Available

Formats

$25.99




Available Now. 1 Available

Formats