Calvin's New Testament Commentaries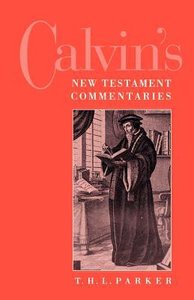 This enlarged and revised edition of a much-acclaimed, full-length study (1971) of Calvin's New Testament commentaries expounds upon Calvin's principles of interpretation. It considers early sixteenth-century hermeneutics and gives special emphasis to the reformers Melanchthon, Bucer, and Bullinger and to "rhetorical" interpretation. A chapter on Calvin's view of the New Testament canon leads to an extensive section on the Greek and Latin texts of the New Testament; the conclusion is that this basic Greek text for the earlier commentaries was not that of Erasmus but the Colinaean text of 1534. The final chapter shows Calvin at work on his commentaries and describes the sources he used for social, geographical, and linguistic understanding of the New Testament. Extensive bibliographies of Calvin's commentaries, as well as those of the relevant Greek and Latin Bibles and the classical, patristic, medieval, and renaissance work to which he was indebted, complete this comprehensive study. Calvin emerges as the first great modern commentator and, above all, as the faithful minister of the Word of God. Book jacket.

- Publisher Dr Parker recounts the history of the writing of the commentaries and examines the revisions Calvin made; examines Calvin's views on the canon of the New Testament and authorship of the books; and reviews Calvin's sources for New Testament history, geography and social customs. An essential tool not only in the understanding of Calvin's commentaries, but of biblical study in general in the sixteenth century.

- Publisher
You May Also Be Interested In
About "Calvin's New Testament Commentaries"
This enlarged and revised edition of a much-acclaimed, full-length study (1971) of Calvin's New Testament commentaries expounds upon Calvin's principles of interpretation. It considers early sixteenth-century hermeneutics and gives special emphasis to the reformers Melanchthon, Bucer, and Bullinger and to "rhetorical" interpretation. A chapter on Calvin's view of the New Testament canon leads to an extensive section on the Greek and Latin texts of the New Testament; the conclusion is that this basic Greek text for the earlier commentaries was not that of Erasmus but the Colinaean text of 1534. The final chapter shows Calvin at work on his commentaries and describes the sources he used for social, geographical, and linguistic understanding of the New Testament. Extensive bibliographies of Calvin's commentaries, as well as those of the relevant Greek and Latin Bibles and the classical, patristic, medieval, and renaissance work to which he was indebted, complete this comprehensive study. Calvin emerges as the first great modern commentator and, above all, as the faithful minister of the Word of God. Book jacket.
- Publisher

Dr Parker recounts the history of the writing of the commentaries and examines the revisions Calvin made; examines Calvin's views on the canon of the New Testament and authorship of the books; and reviews Calvin's sources for New Testament history, geography and social customs. An essential tool not only in the understanding of Calvin's commentaries, but of biblical study in general in the sixteenth century.
- Publisher


Meet the Author
T H L Parker
T. H. L. Parker was a widely respected authority on Calvin's life and thought. He was Reader in Theology at the University of Durham in England.