Captured By Calvary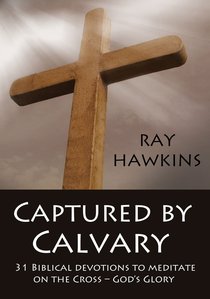 You May Also Be Interested In
Meet the Author
Ray Hawkins
Ray Hawkins, retired after over 40 years as a Churches of Christ minister, enjoys sharing themes from the Scriptures through Devotional writing. Married to Mary, multi-published inspirational romance author, they have three children and five grandchildren. Ray shares his insights in his first two books on Marriage and Children with more ideas to come about ministry and much more. Living in Beauty Point Tasmania Ray heads up a new Christian Fellowship as well as doing relief preaching, community work and writing.
Customer Reviews For "Captured By Calvary"
Write Your Own Review
Captured by Calvary
By Narelle Atkins ,

Dec 16 2013
Captured by Calvary is another excellent devotion book by Ray Hawkins in his 31 Biblical Devotions series. This book illuminates the essence of the Christian faith and gospel message in a way that is easy to understand. It explores the centrality and significance of Jesus' death and resurrection, refering to verses in both the Old and New Testaments.

Each devotion starts with a key verse, which is discussed with references to other Biblical passages and verses, and has a reflection section at the end. The first devotion looks at creation and the fall of mankind in the context of the cross and God's promise of a new creation. The devotions consider important theological concepts in the Bible, including Passover, covenants, forgiveness, suffering and glory. Each devotion provides insights into the cross and gospel message, moving all the way through the Bible to the book of Revelation on Day 30. The last devotion on Day 31 challenges the reader to consider their personal cross (Luke 9:23).

I highly recommend this devotion book to those looking to explore the basics of the Christian faith and those who want to gain a greater understanding of the significance of the gospel message.

Many thanks to Even Before Publishing for providing a review copy.
---
Excellent Devotional Source
By Shirley Corder,

Aug 23 2013
This is a small book with 31 big messages. It is not a quick book to skim through. It is exactly what Ray Hawkins says on the subtitle 31 Biblical Devotions to Meditate on the Cross--God's Glory: it is a book of readings on which to 'meditate'.
 
Each 2-3 page devotion is based on one or two key verses from Scripture, and deserves a close look. In addition to background information, Ray includes insightful thoughts and sometimes questions to help the reader apply the message to his or her own life. Each chapter ends with a "Reflection" in the form of a question or a comment which further brings the meaning of the passage home to our busy lives today. 

I especially appreciate the four "Discussion Starters" at the end of the book to enable the reader to further pursue some of the material read, or to use in a small group. eg, Discussion Starter 3 says, "Jesus is called 'The Lamb of God'. What does it mean? Is there some aspect of this title which is precious to you? Consider devotional days 2,6,7,30."

I received this book from Ray as a gift along with several others in the series, and have enjoyed using it in my daily devotional time. I intend using it again before next Easter. 

Further information about the author and the book can be found at www.shirleycorder.com
---
Inspirational and Deeply Moving
By Booklovers1,

Aug 19 2013
I was really excited to receive this 31 day devotional from Ray Hawkins because I really wanted to explore the deeper meaning of Easter and its symbolism. I can proudly say that I was not disappointed!!! Hawkins goes into such eye opening detail which really helped me appreciate Easter and Christ's sacrifice for us a lot more. Everything is now so much more significant!! I plan on reading this book every year before Easter and a little after as it is the perfect book to help guide your reflection of the Cross, helping you grow in your relationship with Him.
 One of my favourite devotionals was on the second day which was titled "The Cross Before Time" and explained that God planed and knew about the Sacrifice Jesus eventually take for humanity even before he created us, we who are so ultimately special to Him! This is the meaning of true love!!! I feel that the Key Verse from 1 Peter 1:18-20 sums it up really nicely, which reads: You know that it was not with perishable things such as silver or gold that you were redeemed from the empty way of life handed down to you from your forefathers, but with the precious blood of Christ, a lamb without blemish or defect. He was chosen before the creation of the world, but was revealed in these last times for your sake.
 I highly recommend this book for Christians and non-Christians alike because I believe that it communicates what the Gospel, in a nut shell, is all about. Even if you feel like you know a lot about the Bible or have been a Christian for a long time, I can almost guarantee that Hawkins will teach you something new, something that wasn't previously considered. So I encourage you to pick up this book to be enlightened with a new meaning of Easter
---
A much needed book for all.
By Vera G,

Mar 16 2012
This is an excellent inexpensive book for an Easter gift or Birthday present.
Suitable for everyone because the meditations explain so clearly how the Cross of Christ is the very foundation of our Christian faith.
Those who have found it hard to understand will learn a lot from this very well written book and those who find the Cross a mystery will be enlightened. It is a book for all Christians.
It is a book that lends itself to be studied more than once due to its depth and well researched material.
I will be purchasing copies of this book for my Christian friends.
{{review.title}}
By {{review.author.name}},

{{review.reviewCreatedDate | date:'MMM dd yyyy'}}

{{reviewdescription}}
{{review.text}}
---