Carrying Mason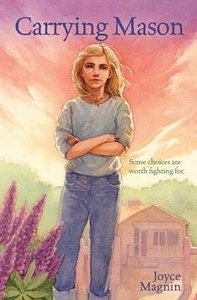 What does it mean to lay down your life? Luna has learned an awful lot in her thirteen years---how to skin a rabbit, how to gut a fish, here to pick the perfect wildflowers---but it's not enough. When her best friend, Mason, dies, she decides to honor his memory by moving in with his mentally disabled mother, Ruby Day. While cooking and cleaning for Ruby Day isn't always easy, everything seems to be going relatively fine---until trouble arrives in the form of Ruby Day's aunt, who will stop at nothing to make sure her niece is put away in a mental institution. Luna is only thirteen. How can she stand up to Ruby Day's aunt? What would Mason want her to do? And why is saying good-bye so difficult?

- Publisher
You May Also Be Interested In
About "Carrying Mason"
What does it mean to lay down your life? Luna has learned an awful lot in her thirteen years---how to skin a rabbit, how to gut a fish, here to pick the perfect wildflowers---but it's not enough. When her best friend, Mason, dies, she decides to honor his memory by moving in with his mentally disabled mother, Ruby Day. While cooking and cleaning for Ruby Day isn't always easy, everything seems to be going relatively fine---until trouble arrives in the form of Ruby Day's aunt, who will stop at nothing to make sure her niece is put away in a mental institution. Luna is only thirteen. How can she stand up to Ruby Day's aunt? What would Mason want her to do? And why is saying good-bye so difficult?
- Publisher


Meet the Author
Joyce Magnin
Joyce Magnin is the author of the popular and quirky BrightÆs Pond novels. She is a frequent conference speaker and writing instructor. When sheÆs not writing or reading, Joyce enjoys baseball, needle arts, video games and cream soda, but not elevatorsÙespecially glass ones. She listens to many kinds of music, shamelessly confesses to enjoying American Idol, yet she has never sky-dived or eaten a scallop. Joyce has three children, Rebekah, Emily and Adam, one son-in-law named Joshua, and three grandsons, Lemuel, Cedar and Soren. Joyce lives in Havertown, Pennsylvania with her son, Adam, and their crazy cat, Mango, who likes to eat nachos.