Center of the Universe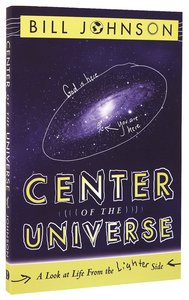 Center of the Universe - A Look at Life From the Lighter Side are slices of real-life experiences from a pastor to his congregation that mix real concern with real humor. From tales about fly-fishing and an uncontrollable hunting dog to a revival in Africa and healing the homeless, this compilation of 93 stories brings smiles as well as profound insight. With a very casual style and voice, author and pastor Bill Johnson shares with you as a personal friend, committed to revealing valuable lessons he learned on the lighter side of life. For instance:

"You've probably not wondered what reward the vegetable world will have in Heaven, but I have. If 'the first will be last and the last will be first' applies to them too, I expect that mustard greens will become like good chocolate in Heaven. After all, being at the bottom of the totem pole of the vegetable world, you have nowhere to go but up. I also hear that lima beans have the inside track on being Heaven's raspberries."

The enjoyable stories illustrate truths that will help you in your everyday spiritual journey through life - and keep you smiling all the way.



- Publisher
You May Also Be Interested In
About "Center of the Universe"
Center of the Universe - A Look at Life From the Lighter Side are slices of real-life experiences from a pastor to his congregation that mix real concern with real humor. From tales about fly-fishing and an uncontrollable hunting dog to a revival in Africa and healing the homeless, this compilation of 93 stories brings smiles as well as profound insight. With a very casual style and voice, author and pastor Bill Johnson shares with you as a personal friend, committed to revealing valuable lessons he learned on the lighter side of life. For instance:

"You've probably not wondered what reward the vegetable world will have in Heaven, but I have. If 'the first will be last and the last will be first' applies to them too, I expect that mustard greens will become like good chocolate in Heaven. After all, being at the bottom of the totem pole of the vegetable world, you have nowhere to go but up. I also hear that lima beans have the inside track on being Heaven's raspberries."

The enjoyable stories illustrate truths that will help you in your everyday spiritual journey through life - and keep you smiling all the way.


- Publisher


Meet the Author
Bill Johnson
Johnson is a fifth-generation pastor with a rich heritage in the Holy Spirit. Together Bill and his wife serve a growing number of churches that have partnered for revival. Bill and Beni Johnson are the senior pastors of Bethel Church, Redding, California.
Table Of Contents
contents

introduction

1. The Inside

2. A Time For Things To Break

3. Divine Distractions

4. Embrace Change

5. Preparing For Revival

6. Good Or Best?

7. My New Dog

8. Mustard Greens

9. Planning

10. Raising Dogs 

11. Stress And Rest

12. Unstringing Our Bow

13. Writing Letters

14. Rez Is Coming Home

15. Simple Life

16. Laugh

17. The Winds Of Change

18. Explosive Under Pressure

19. Drought Versus Winter

20. Never Again

21. Paper For Fire

22. Reminders Of Innocence

23. Writing

24. My New Toy

25. Coffee And The Cross

26. Limitations And Liberties

27. Sounds Of Fear Or Peace

28. True Happiness

29. Sing A New Song

30. Safe In The Center

31. Finding Your Niche

32. Fervent Prayer

33. Discoveries In Prayer

34. Precious

35. Exposure Creates Interest

36. Hearing God

37. Imagination

38. Quiet Time

39. Proverbs

40. Lessons In Prayer

41. Watching Your Heart

42. Keys To Hunger

43. A Fish Story

44. Forgiveness

45. Braces And Baseball

46. Hunting In The Good Old Days

47. Loving The Undeserving 

48. Tp 

49. Who We Are

50. Beatitudes

51. Repentance

52. The Day The Freezer Died

53. Cynicism

54. My Wedding Ring

55. Success

56. Facing Immorality

57. Mistakes

58. Jumping To Conclusions

59. Temptation

60. Restoration

61. Discipleship

62. True Confession

63. Job's Friends

64. True Loyalty

65. Releasing Your Children To God

66. Pastors Of Weaverville

67. Spiritual Roots

68. Mothers

69. Heroes

70. Receiving Christ's Gift

71. Good-bye To Grandma

72. Letters From Kids

73. Receiving Dick Joyce

74. Students

75. My Children

76. Friends

77. Prayer In The Marketplace

78. Good News

79. Marketing Schemes

80. Rain

81. Toronto

82. Graduation

83. Find The Needy

84. An Alternative, Not A Protest

85. His Gospel

86. Good-bye To Weaverville

87. Building The House

88. Thoughts On Travel

89. Revival In Malawi

90. Calling Africa

91. Love, Not Political Pressure

92. Leaving For Bethel

93. Grieving In Change