Changed By the Master's Touch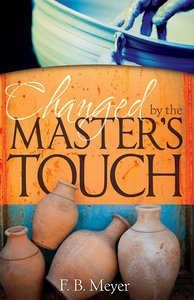 Bible scholar F. B. Meyer presents fresh, encouraging accounts of three New Testament men: John the Baptist, Peter, and Paul. All were changed by Jesus' loving touch to become faithful followers who prevailed against the powers of darkness and ushered in God's kingdom. These true stories illustrate the timeless truths of God's Word. Read them and be inspired to Overcome your "thorn in the flesh." Resist the devil and rest in Jesus' victory. Become an effective witness for the Lord. Receive God's abundant and limitless grace. Obtain positive results in prayer and praise. You can be more than a conqueror. Discover how you can be free from anxiety and despair as you draw nearer to the Master's side.

- Publisher
Also Available In
You May Also Be Interested In
About "Changed By the Master's Touch"
Bible scholar F. B. Meyer presents fresh, encouraging accounts of three New Testament men: John the Baptist, Peter, and Paul. All were changed by Jesus' loving touch to become faithful followers who prevailed against the powers of darkness and ushered in God's kingdom. These true stories illustrate the timeless truths of God's Word. Read them and be inspired to Overcome your "thorn in the flesh." Resist the devil and rest in Jesus' victory. Become an effective witness for the Lord. Receive God's abundant and limitless grace. Obtain positive results in prayer and praise. You can be more than a conqueror. Discover how you can be free from anxiety and despair as you draw nearer to the Master's side.
- Publisher


Meet the Author
F B Meyer
F B Meyer (1847-1929) born in London of German ancestry, he graduated from London University and completed theological training at Regent's Park College. Meyer was a popular convention speaker at Northfield in the United States, Keswick, England and Portstewart, Northern Ireland. Meyer was a man with a compassionate heart, prolific pen and graceful style. His writings are still widely read including Christ in Isaiah, Joseph: Loved, Despised, and Exalted, and in particular his Pulpit Legend Series and Classic Portrait series.-Editorial Review.