Changing Your Mind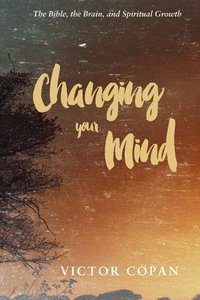 This book takes you on a journey that unpacks and demystifies what spiritual growth is and how it unfolds. The aim is to set you on your own path toward genuine, personal spiritual transformation. The book provides all the tools you need--biblical, scientific, and practical--so that you can develop your own pathway for spiritual growth. What is unique about Victor Copan's approach to spiritual growth is that he explores recent findings of brain research as well as scientific research on habit formation and brings them into conversation with the process of spiritual formation. Research on the brain and on habit formation has uncovered significant insights about the process and dynamics of human transformation that can be fruitfully incorporated into our own pursuit of spiritual transformation. Tapping into this research allows us to work in concert with how God designed humans to function--body, soul, and spirit.

- Publisher
You May Also Be Interested In
About "Changing Your Mind"
This book takes you on a journey that unpacks and demystifies what spiritual growth is and how it unfolds. The aim is to set you on your own path toward genuine, personal spiritual transformation. The book provides all the tools you need--biblical, scientific, and practical--so that you can develop your own pathway for spiritual growth. What is unique about Victor Copan's approach to spiritual growth is that he explores recent findings of brain research as well as scientific research on habit formation and brings them into conversation with the process of spiritual formation. Research on the brain and on habit formation has uncovered significant insights about the process and dynamics of human transformation that can be fruitfully incorporated into our own pursuit of spiritual transformation. Tapping into this research allows us to work in concert with how God designed humans to function--body, soul, and spirit.
- Publisher


Meet the Author
Victor Copan
Victor Copan is Associate Professor of Ministry, Leadership and Biblical Studies, Palm Beach Atlantic University, Florida. M.A., M.Div., Trinity International University; Th.D., University of Vienna.Dr. Copan served for over 15 years as a missionary in Austria. He partnered with the established Protestant church in Austria and worked as a church-growth consultant, small-groups specialist and minister to theology students. He developed training programs and curricula for small group leaders across Austria. In addition, he was on the national board of The Alpha Course for Austria, and was involved in training and consulting for Alpha in the eastern half of Austria.Dr. Copan also established a thriving ministry to theology students at the University of Vienna, and was an independent instructor at the Protestant Institute of Theology at the University of Vienna. He received a Th.D from the University of Vienna. His dissertation was titled, "Pauline Imitation and the Contemporary Practice of Spiritual Direction" and explored the Apostle Paul as a spiritual director.From 1996 to 2003, he was on the steering committee for the International Fellowship of Evangelical Students' annual European Theological Students' Conference held at Schloss Mittersill, Austria. He also initiated and was on the editorial board of Biblische Information Theologie Studierende (BITS), a booklet series for theological students in the German-speaking world aimed at presenting an evangelical approach to key theological issues.