Character Reborn: A Philosophy of Christian Education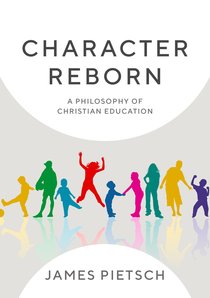 More than one million students in Australia attend schools founded by churches and other Christian organisations.What is it that sets these schools apart? More importantly, what is it that should set these schools apart?In Character Reborn, James Pietsch offers a fresh examination of the unique capacities and opportunities of Christian schools in Australia today.More than ever before, Christian schools are a significant point of contact between Christian communities and those with little or no understanding of the Christian worldview. Dr Pietsch challenges Christian educators to consider how they might maximise their opportunities to share the good news of Jesus with this wider community that is drawn to Christian schooling. To this end, he sets out an approach to education that focuses on learning character, whereby students in the Christian school context experience and practise the values of the kingdom of God - grace, compassion, kindness, and humility - as integral to their development, whatever their religious or cultural background.This book presents an inspiring blueprint for building up today's students as people of Christian character - preparing them for the challenges of the current age and giving them insight into the age to come.

- Publisher
You May Also Be Interested In
About "Character Reborn: A Philosophy of Christian Education"
More than one million students in Australia attend schools founded by churches and other Christian organisations.What is it that sets these schools apart? More importantly, what is it that should set these schools apart?In Character Reborn, James Pietsch offers a fresh examination of the unique capacities and opportunities of Christian schools in Australia today.More than ever before, Christian schools are a significant point of contact between Christian communities and those with little or no understanding of the Christian worldview. Dr Pietsch challenges Christian educators to consider how they might maximise their opportunities to share the good news of Jesus with this wider community that is drawn to Christian schooling. To this end, he sets out an approach to education that focuses on learning character, whereby students in the Christian school context experience and practise the values of the kingdom of God - grace, compassion, kindness, and humility - as integral to their development, whatever their religious or cultural background.This book presents an inspiring blueprint for building up today's students as people of Christian character - preparing them for the challenges of the current age and giving them insight into the age to come.
- Publisher


Meet the Author
James Pietsch
Dr James Pietsch is the Principal at Inaburra School in Sydney. Prior to his appointment at Inaburra he was at St Luke's Grammar School on Sydney's Northern Beaches as the Head of Mathematics and then Dean of Professional Development and Learning. James has written a number of book chapters and journal articles relating to Christian approaches to teaching and learning, mathematics education and educational psychology. He has taught secondary mathematics and tertiary courses in educational psychology, discrete mathematics and child development. James is passionate about learning and enjoys reading books about first-century Rome as well as novels by Kazuo Ishiguro, discussing American politics and listening to the music of Bach, Mozart, U2 and Radiohead.
Table Of Contents
More Than One Million Students In Australia Attend Schools Founded By Churches And Other Christian Organisations.what Is It That Sets These Schools Apart?more Importantly, What Is It That Should Set These Schools Apart?in 'character Reborn', James Pietsch Offers A Fresh Examination Of The Unique Capacities And Opportunities Of Christian Schools In Australia Today.more Than Ever Before, Christian Schools Are A Significant Point Of Contact Between Christian Communities And Those With Little Or No Understanding Of The Christian Worldview. Dr Pietsch Challenges Christian Educators To Consider How They Might Maximise Their Opportunities To Share The Good News Of Jesus With This Wider Community That Is Drawn To Christian Schooling. To This End, He Sets Out An Approach To Education That Focuses On Learning Character, Whereby Students In The Christian School Context Experience And Practise The Values Of The Kingdom Of God ? Grace, Compassion, Kindness, And Humility ? As Integral To Their Development, Whatever Their Religious Or Cultural Background.this Book Presents An Inspiring Blueprint For Building Up Today's Students As People Of Christian Character ? Preparing Them For The Challenges Of The Current Age And Giving Them Insight Into The Age To Come.