Chasing Mona Lisa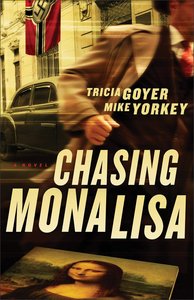 It is August 1944 and Paris is on the cusp of liberation. As the soldiers of the Third Reich flee the Allied advance, they ravage the country, stealing countless pieces of art. Reichsmarschall Hermann Göring will stop at nothing to claim the most valuable one of all, the Mona Lisa, as a post-war bargaining chip to get him to South America. Can Swiss OSS agents Gabi Mueller and Eric Hofstadler rescue DaVinci's masterpiece before it falls into German hands?

With nonstop action, Chasing Mona Lisa is sure to get readers' adrenaline pumping as they join the chase to save the most famous painting in the world. From war-ravaged Paris to a posh country chateau, the race is on--and the runners are playing for keeps.

- Publisher
You May Also Be Interested In
About "Chasing Mona Lisa"
It is August 1944 and Paris is on the cusp of liberation. As the soldiers of the Third Reich flee the Allied advance, they ravage the country, stealing countless pieces of art. Reichsmarschall Hermann Göring will stop at nothing to claim the most valuable one of all, the Mona Lisa, as a post-war bargaining chip to get him to South America. Can Swiss OSS agents Gabi Mueller and Eric Hofstadler rescue DaVinci's masterpiece before it falls into German hands?

With nonstop action, Chasing Mona Lisa is sure to get readers' adrenaline pumping as they join the chase to save the most famous painting in the world. From war-ravaged Paris to a posh country chateau, the race is on--and the runners are playing for keeps.
- Publisher


Meet the Authors
Tricia Goyer
Tricia Goyer has written hundreds of articles, Bible Study notes, and both fiction and non-fiction books, including From Dust and Ashes, Night Song, Arms of Deliverance, and Generation Next Parenting.
She was named Mount Hermon Christian Writers' Conference "Writer of the Year" in 2003. In 2005, her book Life Interrupted was a finalist for the Gold Medallion and her novel Night Song won ACFW's Book of the Year for Long Historical Romance.
In addition to writing, Tricia enjoys sharing Jesus' love through volunteering as a mentor for teenage mothers in her community. She also joins the rest of her family, leading children's church every week, and travels throughout the United States as a speaker, mainly giving presentations to women's groups.
Mike Yorkey
Mike Yorkey, with thirty books to his credit, is a long-suffering San Diego Padres fan living in Encinitas, California. He most well known as the editor and author of Every Man Series