Chasing the Sun (Unabridged, 8 CDS) (#01 in Land Of The Lone Star Audio Series)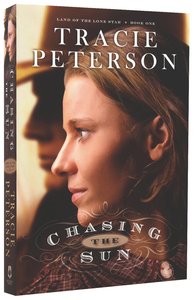 LAND OF THE LONE STAR BOOK ONE
:When her father disappears in war-torn Mississippi, Hannah Dandridge finds herself responsible not only for her younger siblings but also for the Texas ranch her father recently acquired. A marriage of convenience could ease her predicament . . . but is it the true desire of her heart? Wounded soldier William Barnett returns home only to find out that his family?s ranch has been seized. Though angered at this turn of events, he?s surprised to discover that it is a beautiful young woman with amazing fortitude who is struggling to keep the place running. Despite these circumstances, Hannah and William form an uneasy truce . . . and an undeniable attraction builds between them. In a land where loyalties are divided in a country ravaged by war, is there any hope that the first blush of love can survive?

- Publisher
You May Also Be Interested In
About "Chasing the Sun (Unabridged, 8 CDS) (#01 in Land Of The Lone Star Audio Series)"
:When her father disappears in war-torn Mississippi, Hannah Dandridge finds herself responsible not only for her younger siblings but also for the Texas ranch her father recently acquired. A marriage of convenience could ease her predicament . . . but is it the true desire of her heart? Wounded soldier William Barnett returns home only to find out that his family?s ranch has been seized. Though angered at this turn of events, he?s surprised to discover that it is a beautiful young woman with amazing fortitude who is struggling to keep the place running. Despite these circumstances, Hannah and William form an uneasy truce . . . and an undeniable attraction builds between them. In a land where loyalties are divided in a country ravaged by war, is there any hope that the first blush of love can survive?
- Publisher


Meet the Author
Tracie Peterson
Tracie Peterson is a full-time author who has written or co-written over 60 novels in both historical and contemporary genres which regularly appear on the bestseller lists, including the WESTWARD CHRONICLES, the YUKON QUEST and the SHANNON SAGA series. Tracie also teaches writing workshops at a variety of conferences on subjects including inspirational romance and historical research. Tracie and her family live in Montana. - Publisher.
Other Titles In The "Land Of The Lone Star Audio Series" Series View All