Child of Mine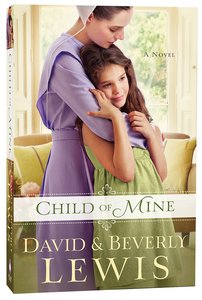 Bestselling Author Duo Delivers Heart-Stirring Drama

Jack Livingston has been raising his nine-year-old adopted niece, Natalie, since the accident that took her parents' lives. While he travels for work, Natalie is lovingly cared for by Laura, an Amish nanny who loves her as her own.

Kelly Maines is nearing the end of her rope. Her baby was kidnapped, the apparent victim of a black market adoption ring, and for eight years, Kelly has tirelessly pursued every lead to its bitter end. Now, there's one last lead from a private investigator: Just a few miles away lives a girl who matches the profile. Could this, at long last, be her beloved child?

Desperately, Kelly initiates a "chance" meeting with Jack Livingston. It goes really well. So well, in fact, that Jack asks her out. One date leads to another, and before she can come clean with her original motives, Kelly realizes Jack is falling for her--and she for him.

Now how can she tell Jack why she's really here? And having gotten to know Natalie, what if she isn't her long-lost daughter, after all? This was all supposed to be so simple.

But nothing in Natalie's world is simple...

- Publisher
You May Also Be Interested In
About "Child of Mine"
Bestselling Author Duo Delivers Heart-Stirring Drama

Jack Livingston has been raising his nine-year-old adopted niece, Natalie, since the accident that took her parents' lives. While he travels for work, Natalie is lovingly cared for by Laura, an Amish nanny who loves her as her own.

Kelly Maines is nearing the end of her rope. Her baby was kidnapped, the apparent victim of a black market adoption ring, and for eight years, Kelly has tirelessly pursued every lead to its bitter end. Now, there's one last lead from a private investigator: Just a few miles away lives a girl who matches the profile. Could this, at long last, be her beloved child?

Desperately, Kelly initiates a "chance" meeting with Jack Livingston. It goes really well. So well, in fact, that Jack asks her out. One date leads to another, and before she can come clean with her original motives, Kelly realizes Jack is falling for her--and she for him.

Now how can she tell Jack why she's really here? And having gotten to know Natalie, what if she isn't her long-lost daughter, after all? This was all supposed to be so simple.

But nothing in Natalie's world is simple...
- Publisher


Meet the Authors
Beverly Lewis
Beverly Lewis was born Beverly Marie Jones in 1949, in Lancaster, Pennsylvania, and grew up in the heart of 'Pennsylvania Dutch' country. She played and composed on the piano and wrote avidly from a very young age. Beverly's father was an Assemblies of God pastor, and she was raised in that denomination. However, she became fascinated with her ancestral links to the Old Order Mennonite community into which her maternal grandmother, Ada Buchwalter, had been born. Beverly's deep affinity for her Amish heritage has inspired much of her prodigious literary output - over eighty books for both children and adults.

Beverly graduated from Evangel University with a degree in Music Education, and became a schoolteacher. When her own three children were middle school age, Beverly began submitting stories to children's magazines. Her first book Mountain Bikes and Garbanzo Beans was published in 1993.

Beverly's first adult fiction, published in 1997, was the Heritage of Lancaster County trilogy, about the experiences of a young Amish woman Katie Lapp as she moves from the plain traditions of her upbringing into the modern world. Beverly has followed this award-winning bestseller with a stream of popular titles that have established her as one of our time's most beloved storytellers. Her titles include the Cul-De-Sac Kids, the Girls Only (GO!), and the Holly's Heart series for children, and the Amish based Rose, Seasons of Grace, Abram's Daughter, The Courtship of Nellie Fisher, and Annie's People series. She has received numerous awards including two Silver Angel Awards for her novels The Postcard and Annika's Secret Wish, and a Golden Book Award for The Shunning, the first volume of her Heritage of Lancaster County series.

Beverly is a member of the National League of American Pen Women as well as a Distinguished Alumnus of Evangel University. She says of her leisure:

"When I'm between writing deadlines, I enjoy hiking in the Rocky Mountains with my husband. Cooking from scratch, playing Mozart at the piano, and making family memory albums, as well as traveling to meet my devoted readers during book tours, are some of my very favorite things. I also adore reading biographies and memoirs, as well as classic literature."

She makes her home with her husband David in Colorado. In addition to their three adult children, they have three grandchildren.
David Lewis
David Lewis, an accomplished keyboard artist and piano teacher, was born in Minnesota and raised in the Midwest. He met his wife, Beverly, in Colorado, where they make their home in the foothills of the Rocky Mountains.
Customer Reviews For "Child of Mine"
Write Your Own Review
Gentle, warm and enjoyable story
By Ruth Woodhouse,

Oct 24 2017
I always enjoy Beverly Lewis's stories based on Amish life and this one was as good as ever. No doubt her husband's involvement in writing this particular book added something special too.  One of the features of this story is that, whilst one of the major characters lives according to her traditional Amish faith and upbringing, and still belongs to a slightly more modern Amish community, the rest of the characters are what the Amish refer to as "Englischers".  It is characteristically a gentle, warm and highly readable story, with a plot that has enough twists, turns and surprises to add just the right amount of suspense for someone who likes it to be moderate.  Most of the characters are highly likeable and you can't help but fall in love with 8-year-old Natalie and want everything to turn out perfectly for her, as well as her dad and Kelly, who is searching for her child, stolen and sold on the black adoption market when she was just a baby.  At the same time, your desire for Natalie's Amish nanny, Laura's own happy ending, creates some conflict in your hopes for the outcome of Kelly's search.  While the content is not overtly spiritual, it certainly has Christian overtones, in addition to the Amish element, the major characters are Christians, and Christian teaching, ethics and behaviour crop up naturally along the way. A lovely story by competent authors!
---
An immersing read
By Sarah,

Sep 28 2014
I loved this book. I was suprised to find it contained many plot twists and turns, keeping me guessing until the final few chapters of the story. David and Beverly have crafted a fantastic storyline, weaving through elements of faith without being pushy. Forgiveness, grief and loss are addressed within an engaging story. 
This is definetly one of Beverly's best novels yet! I would have given it 4.5 stars if that were an option :)
{{review.title}}
By {{review.author.name}},

{{review.reviewCreatedDate | date:'MMM dd yyyy'}}

{{reviewdescription}}
{{review.text}}
---