Child of Promise (#04 in Brides Of Culdee Creek Series)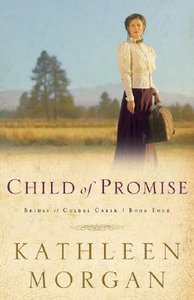 Kathleen Morgan's books for the general market have earned rave reviews and hooked thousands of romance fans. Her first inspirational series, Brides of Culdee Creek, has proven successful as well. Woman of Grace and Lady of Light each climbed the CBA Marketplace best-selling fiction list. This new release, Child of Promise, is the final book in the series. Beth MacKay, the daughter of Culdee Creek's owner, returns home after completing medical school to take over the aging Doc Childress's practice. Reluctantly, her life and heart become entwined with that of Grand View's Episcopalian priest, Noah Starr. But Noah struggles with his faith and calling since his wife died and his daughter, Emily, was disabled with cerebral palsy due to the difficult birth. When Beth becomes embroiled in a spousal abuse case between two of Noah's parishioners, she encourages the battered woman to leave her husband for her own safety. Noah cautions the woman to try to work things out, and when the abuse end

- Publisher In this final book of the bestselling fiction series, Beth MacKay returns from medical school and finds Grand View's Episcopal priest, Noah Starr, struggling to keep his faith in God. Only with Beth's faith and love can Noah find his way back to the life God always has intended for him.

- Publisher
You May Also Be Interested In
About "Child of Promise (#04 in Brides Of Culdee Creek Series)"
Kathleen Morgan's books for the general market have earned rave reviews and hooked thousands of romance fans. Her first inspirational series, Brides of Culdee Creek, has proven successful as well. Woman of Grace and Lady of Light each climbed the CBA Marketplace best-selling fiction list. This new release, Child of Promise, is the final book in the series. Beth MacKay, the daughter of Culdee Creek's owner, returns home after completing medical school to take over the aging Doc Childress's practice. Reluctantly, her life and heart become entwined with that of Grand View's Episcopalian priest, Noah Starr. But Noah struggles with his faith and calling since his wife died and his daughter, Emily, was disabled with cerebral palsy due to the difficult birth. When Beth becomes embroiled in a spousal abuse case between two of Noah's parishioners, she encourages the battered woman to leave her husband for her own safety. Noah cautions the woman to try to work things out, and when the abuse end
- Publisher

In this final book of the bestselling fiction series, Beth MacKay returns from medical school and finds Grand View's Episcopal priest, Noah Starr, struggling to keep his faith in God. Only with Beth's faith and love can Noah find his way back to the life God always has intended for him.
- Publisher


Meet the Author
Kathleen Morgan
Kathleen Morgan is the author of the bestselling Brides of Culdee Creek series and As High as the Heavens, as well the These Highland Hills series. She lives in Colorado Springs, Colorado.
Other Titles In The "Brides Of Culdee Creek" Series View All