Child of the Mist (#01 in These Highland Hills Series)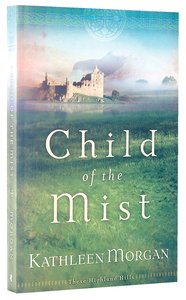 In the harsh Scottish highlands of 1564, superstitions threaten a truce. . . a traitor plans his attack. . . and a new love is born.

An arranged betrothal was never the course Anne MacGregor imagined her life would take. Yet when her father explains that her cooperation is the only way to bring about the long-sought truce between feuding families, Anne has no other choice.

A simple ceremony pledging Anne's hand in marriage after one year of commitment is the only seal to the promise of peace. But when the arrangement requires the reluctant Anne to follow Niall Campbell back to his home, she soon discovers that peace is not so easily achieved. Before they even arrive, rumours about her abound, and her safety is threatened. Meanwhile, Niall's ascension as leader of his clan is in jeopardy, as a traitor works to bring about his downfall.

As Niall and Anne begin to see beyond each other's defences, love takes them by surprise. But will it be enough to defeat their foes? Or will the truce be broken, their lives forfeit, and war return to their beloved land?


- Publisher In the harsh Scottish highlands of 1565, superstition and treachery threaten a truce between rival clans. It's a weak truce at first, bound only by an arranged engagement between Anne MacGregor and Niall Campbell-the heirs of the feuding families. While Niall wrestles with his suspicions about a traitor in his clan, Anne's actions do not go unnoticed. And as accusations of witchcraft abound, the strong and sometimes callous Campbell heir must fight for Anne's safety among disconcerted clan members. Meanwhile his own safety in threatened with the ever-present threat of someone who wants him dead. Will Niall discover the traitor's identity in time? Can Anne find a way to fit into her new surroundings? Will the two learn to love each other despite the conflict? With a perfect mix of a burgeoning romance and thrilling suspense, this book is historical fiction at its best.

- Publisher In the harsh Scottish Highlands of 1565, Niall Campbell is captured by his dreaded enemies, the MacGregors. In exchange for his life, Niall agrees to end the Highland feud by joining the two clans together in a marriage with high-spirited Anne MacGregor.

- Publisher
You May Also Be Interested In
About "Child of the Mist (#01 in These Highland Hills Series)"
In the harsh Scottish highlands of 1564, superstitions threaten a truce. . . a traitor plans his attack. . . and a new love is born.

An arranged betrothal was never the course Anne MacGregor imagined her life would take. Yet when her father explains that her cooperation is the only way to bring about the long-sought truce between feuding families, Anne has no other choice.

A simple ceremony pledging Anne's hand in marriage after one year of commitment is the only seal to the promise of peace. But when the arrangement requires the reluctant Anne to follow Niall Campbell back to his home, she soon discovers that peace is not so easily achieved. Before they even arrive, rumours about her abound, and her safety is threatened. Meanwhile, Niall's ascension as leader of his clan is in jeopardy, as a traitor works to bring about his downfall.

As Niall and Anne begin to see beyond each other's defences, love takes them by surprise. But will it be enough to defeat their foes? Or will the truce be broken, their lives forfeit, and war return to their beloved land?

- Publisher

In the harsh Scottish highlands of 1565, superstition and treachery threaten a truce between rival clans. It's a weak truce at first, bound only by an arranged engagement between Anne MacGregor and Niall Campbell-the heirs of the feuding families. While Niall wrestles with his suspicions about a traitor in his clan, Anne's actions do not go unnoticed. And as accusations of witchcraft abound, the strong and sometimes callous Campbell heir must fight for Anne's safety among disconcerted clan members. Meanwhile his own safety in threatened with the ever-present threat of someone who wants him dead. Will Niall discover the traitor's identity in time? Can Anne find a way to fit into her new surroundings? Will the two learn to love each other despite the conflict? With a perfect mix of a burgeoning romance and thrilling suspense, this book is historical fiction at its best.
- Publisher

In the harsh Scottish Highlands of 1565, Niall Campbell is captured by his dreaded enemies, the MacGregors. In exchange for his life, Niall agrees to end the Highland feud by joining the two clans together in a marriage with high-spirited Anne MacGregor.
- Publisher


Meet the Author
Kathleen Morgan
Kathleen Morgan is the author of the bestselling Brides of Culdee Creek series and As High as the Heavens, as well the These Highland Hills series. She lives in Colorado Springs, Colorado.
Customer Reviews For "Child of the Mist (#01 in These Highland Hills Series)"
Write Your Own Review
Pride
By becinchina,

May 30 2018
Since my Grandmother's family's from Scotland, I'm 'verra' partial to a good Highland tale. Enjoyed the fiery interactions between Niall and Anne. As well as the suspense of trying to discover the traitor.
---
Great
By IM,

Sep 16 2014
I loved the story.  Well written.  Not slow.  Interesting.  Sweet.  After reading this one I just had to read the rest of the books of this series, and I love all of them.  
---
Couldn't put it down
By K.S.,

Feb 08 2012
Absolutely loved it. Engrossing, well constructed and fast paced yet involving. Had serious trouble stepping away. Well built characters, language and fantastic location. Will definitely be looking at more by this author.
---
Excellent story
By Bookworm2,

Feb 03 2012
I loved reading this book. It was engaging right from the start. The dialogue is fresh and interesting. I love stories with strong characters and Kathleen Morgan had done a great job in creating strong and interesting characters. I can not wait to get my hands on the sequel.  
{{review.title}}
By {{review.author.name}},

{{review.reviewCreatedDate | date:'MMM dd yyyy'}}

{{reviewdescription}}
{{review.text}}
---
Other Titles In The "These Highland Hills Series" Series