Children and Grief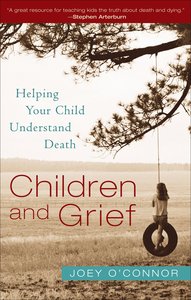 This is a book written for you and your children," explains Joey O'Connor. "It initiates a conversation on a difficult subject most people prefer to avoid. It is about people like you and me struggling to figure out what they really believe when the unbelievable has happened. And then wondering, 'What in the world am I going to say to my kids? How am I going to explain what just happened in our family and what I believe about the God who saw this whole thing happen?"

Children and Grief offers parents a way to approach these tough questions with honesty, tenderness, and hope. O'Connor shows how to teach children to trust God, celebrate life, and have hope in the face of death.

- Publisher
You May Also Be Interested In
About "Children and Grief"
This is a book written for you and your children," explains Joey O'Connor. "It initiates a conversation on a difficult subject most people prefer to avoid. It is about people like you and me struggling to figure out what they really believe when the unbelievable has happened. And then wondering, 'What in the world am I going to say to my kids? How am I going to explain what just happened in our family and what I believe about the God who saw this whole thing happen?"

Children and Grief offers parents a way to approach these tough questions with honesty, tenderness, and hope. O'Connor shows how to teach children to trust God, celebrate life, and have hope in the face of death.
- Publisher


Meet the Author
Joey O'Connor
Joey O'Connor is the author of several books for couples, parents, and young adults. He has appeared on several television programs to educate parents about how to discuss life and death issues with their children, as well as dozens of national radio programs to help couples learn how to improve their relationships. Joey serves Coast Hills Community Church in the spiritual formation department and lives in San Clemente, California.