Choosing Forgiveness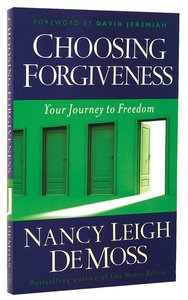 Scripture says that offenses will happen. People will let us down and we will let others down, as well. Forgiveness is left up to us to pray about and then practice. Far from minimizing the hurt of the offense, readers are called to understand that offering forgiveness and letting go of bitterness is the only way to walk in faithfulness. Drawing on biblical teaching of our call to forgive, Nancy shows the reader that forgiveness is a choice - and the only pathway to true freedom.



- Publisher DeMoss outlines a pathway to freedom from the prison of bitterness, anger, and an unforgiving spirit. She believes that most people harbor a seed--if not a forest--of harsh or bitter feelings toward someone else. Learning to forgive opens the door to joy and peace.

- Publisher
You May Also Be Interested In
About "Choosing Forgiveness"
Scripture says that offenses will happen. People will let us down and we will let others down, as well. Forgiveness is left up to us to pray about and then practice. Far from minimizing the hurt of the offense, readers are called to understand that offering forgiveness and letting go of bitterness is the only way to walk in faithfulness. Drawing on biblical teaching of our call to forgive, Nancy shows the reader that forgiveness is a choice - and the only pathway to true freedom.


- Publisher

DeMoss outlines a pathway to freedom from the prison of bitterness, anger, and an unforgiving spirit. She believes that most people harbor a seed--if not a forest--of harsh or bitter feelings toward someone else. Learning to forgive opens the door to joy and peace.
- Publisher


Meet the Author
Nancy Demoss Wolgemuth
NANCY LEIGH DEMOSS is the author of fifteen books, including the bestselling Lies Women Believe and Choosing Forgiveness. She is the host and teacher for Revive Our Hearts and Seeking Him, two nationally-syndicated programs heard each weekday on over 1,000 radio stations. Through her teaching ministry and books (which have sold more than two million copies), God is using her as a mentor and spiritual mother to thousands of women, and as a leader of the True Woman Movement. Nancy's burden is to call women to freedom, fullness, and fruitfulness in Christ and to see God ignite true revival in the hearts of His people. For more information on her radio programs, conference ministry, and books, visit www.ReviveOurHearts.com .
Table Of Contents
foreword By David Jeremiah
with Gratitude...
introduction

1. Walking Wounded

2. What Happens When We Refuse

3. The Promise Of Forgiveness

4. Forgiving For Jesus' Sake

5. The Art Of Forgiveness

6. Angry At God

7. What True Forgiveness Is--and Isn't

8. Returning A Blessing

afterword: The Power Of Forgiveness
notes
small Group Discussion Guide