Choosing to See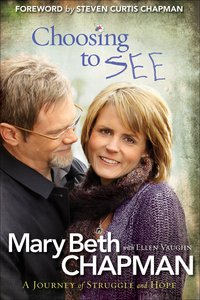 I've told my kids for years that God doesn't make mistakes," writes Mary Beth Chapman, wife of Grammy award winning recording artist Steven Curtis Chapman. "Would I believe it now, when my whole world as I knew it came to an end?"

Covering her courtship and marriage to Steven Curtis Chapman, struggles for emotional balance, and living with grief, Mary Beth's story is our story--wondering where God is when the worst happens. In Choosing to SEE, she shows how she wrestles with God even as she has allowed him to write her story--both during times of happiness and those of tragedy. Readers will hear firsthand about the loss of her daughter, the struggle to heal, and the unexpected path God has placed her on. Even as difficult as life can be, Mary Beth Chapman Chooses to SEE. Includes a 16-page full color photo insert.

- Publisher
You May Also Be Interested In
About "Choosing to See"
I've told my kids for years that God doesn't make mistakes," writes Mary Beth Chapman, wife of Grammy award winning recording artist Steven Curtis Chapman. "Would I believe it now, when my whole world as I knew it came to an end?"

Covering her courtship and marriage to Steven Curtis Chapman, struggles for emotional balance, and living with grief, Mary Beth's story is our story--wondering where God is when the worst happens. In Choosing to SEE, she shows how she wrestles with God even as she has allowed him to write her story--both during times of happiness and those of tragedy. Readers will hear firsthand about the loss of her daughter, the struggle to heal, and the unexpected path God has placed her on. Even as difficult as life can be, Mary Beth Chapman Chooses to SEE. Includes a 16-page full color photo insert.
- Publisher


Meet the Authors
Mary Beth Chapman
Mary Beth has bben married to Steven Curtis Chapman for more than twenty years and have six children (three they adopted from China). They met in college, where they were assigned the same mailbox because they had the same last name (Mary Beth's maiden name was Chapman). Since 1987, Steven has released fourteen albums, five of which have been certified gold and two of which have been certified platinum. Together they have written several delightful children's book inspired by their own experiences.
Ellen Vaughn
Ellen Vaughn is an award-winning author and speaker. Her novels include The Strand and Gideon's Torch, which she coauthored with Chuck Colson. She collaborated with Colson on eight other nonfiction works, including Being the Body, The Body, and Kingdoms in Conflict. Her most recent book is Radical Gratitude. Vaughn speaks frequently at Christian conferences and has been featured at writers' seminars in the United States and Canada. She lives in Virginia with her husband, Lee; daughter, Emily; twins, Walker and Haley; and an enormous dog named after C. S. Lewis.