Chosen By God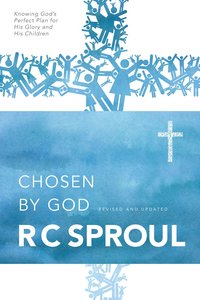 With nearly 200,000 copies sold in its 25 years, Chosen by God by Dr. R. C. Sproul is a contemporary classic on predestination, a doctrine that isn't just for Calvinists, says Sproul. It is a doctrine for all biblical Christians. In this updated and expanded edition of Chosen by God, Sproul shows that the doctrine of predestination doesn't create a whimsical or spiteful picture of God, but paints a portrait of a loving God who provides redemption for radically corrupt humans. We choose God because he has opened our eyes to see his beauty; we love him because he first loved us. There is mystery in God's ways, but not contradiction.

- Publisher
You May Also Be Interested In
About "Chosen By God"
With nearly 200,000 copies sold in its 25 years, Chosen by God by Dr. R. C. Sproul is a contemporary classic on predestination, a doctrine that isn't just for Calvinists, says Sproul. It is a doctrine for all biblical Christians. In this updated and expanded edition of Chosen by God, Sproul shows that the doctrine of predestination doesn't create a whimsical or spiteful picture of God, but paints a portrait of a loving God who provides redemption for radically corrupt humans. We choose God because he has opened our eyes to see his beauty; we love him because he first loved us. There is mystery in God's ways, but not contradiction.
- Publisher


Meet the Author
R C Sproul
R. C. Sproul (1939-2017), theologian, pastor and teacher, was founder of Ligonier Ministries, an international teaching ministry based in Orlando, Florida. He holds doctorate degrees from Free University of Amsterdam and Whitefield Theological Seminary, and is author of more than sixty books, general editor of The Reformation Study Bible and executive editor of Tabletalk magazine. Sproul is senior minister of preaching at Saint Andrew's Chapel and can be heard daily on the radio broadcast Renewing Your Mind.
Table Of Contents
With Nearly 200,000 Copies Sold In Its 25 Years, chosen By God By Dr. R. C. Sproul Is A Contemporary Classic On Predestination, A Doctrine That Isn't Just For Calvinists, Says Sproul. It Is A Doctrine For all Biblical Christians. In This Updated And Expanded Edition Of chosen By God, Sproul Shows That The Doctrine Of Predestination Doesn't Create A Whimsical Or Spiteful Picture Of God, But Paints A Portrait Of A Loving God Who Provides Redemption For Radically Corrupt Humans. We Choose God Because He Has Opened Our Eyes To See His Beauty; We Love Him Because He First Loved Us. There Is Mystery In God's Ways, But Not Contradiction.