Christ-Centered Worship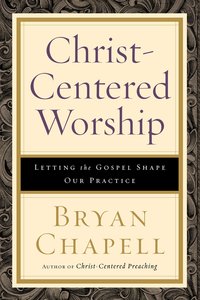 The church's worship has always been shaped by its understanding of the gospel. Here the bestselling author of Christ-Centered Preaching brings biblical and historical perspective to discussions about worship, demonstrating that the gospel has shaped key worship traditions and should shape today's worship as well.

This accessible and engaging book provides the church with a Christ-centered understanding of worship to help it transcend the traditional/contemporary worship debate and unite in ministry and mission priorities. Contemporary believers will learn how to shape their worship based on Christ's ministry to and through them. The book's insights and practical resources for worship planning will be useful to pastors, worship leaders, worship planning committees, missionaries, and worship and ministry students.

- Publisher
You May Also Be Interested In
About "Christ-Centered Worship"
The church's worship has always been shaped by its understanding of the gospel. Here the bestselling author of Christ-Centered Preaching brings biblical and historical perspective to discussions about worship, demonstrating that the gospel has shaped key worship traditions and should shape today's worship as well.

This accessible and engaging book provides the church with a Christ-centered understanding of worship to help it transcend the traditional/contemporary worship debate and unite in ministry and mission priorities. Contemporary believers will learn how to shape their worship based on Christ's ministry to and through them. The book's insights and practical resources for worship planning will be useful to pastors, worship leaders, worship planning committees, missionaries, and worship and ministry students.
- Publisher


Meet the Author
Bryan Chapell
Bryan Chapell (Ph.D., Southern Illinois University) is the president of Covenant Theological Seminary and a former pastor who is a widely traveled speaker in the United States and abroad. He is also the author of numerous books, including the Gold Medallion finalist Holiness by Grace, as well as Praying Backwards and the award-winning Christ-Centered Preaching. Most recently he has produced Ephesians (Reformed Expository Commentary).
Koorong-Editorial Review.
Table Of Contents
The Church's Worship Has Always Been Shaped By Its Understanding Of The Gospel. Here The Bestselling Author Of christ-centered Preaching Brings Biblical And Historical Perspective To Discussions About Worship, Demonstrating That The Gospel Has Shaped Key Worship Traditions And Should Shape Today's Worship As Well.

This Accessible And Engaging Book Provides The Church With A Christ-centered Understanding Of Worship To Help It Transcend The Traditional/contemporary Worship Debate And Unite In Ministry And Mission Priorities. Contemporary Believers Will Learn How To Shape Their Worship Based On Christ's Ministry To And Through Them. The Book's Insights And Practical Resources For Worship Planning Will Be Useful To Pastors, Worship Leaders, Worship Planning Committees, Missionaries, And Worship And Ministry Students.