Christ in Christian Tradition (Vol 2/2)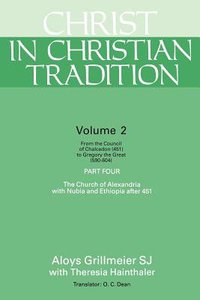 Examines the development of Christology and the concept of Christ and His presence through the late eighth century.

- Publisher This majestic, comprehensive study of Christology includes the only full scholarly treatment of the traditions of the old Oriental Churches. The book concerns itself with the special developments in Christology in the Patriarchate of Constantipole in the sixth century and the establishment of the powerful anti-Chalcedonian hierarchy symbolized by Patriarch Severus of Antioch.

- Publisher
You May Also Be Interested In
About "Christ in Christian Tradition (Vol 2/2)"
Examines the development of Christology and the concept of Christ and His presence through the late eighth century.
- Publisher

This majestic, comprehensive study of Christology includes the only full scholarly treatment of the traditions of the old Oriental Churches. The book concerns itself with the special developments in Christology in the Patriarchate of Constantipole in the sixth century and the establishment of the powerful anti-Chalcedonian hierarchy symbolized by Patriarch Severus of Antioch.
- Publisher


Meet the Author
Aloys Grillmeier
Aloys Grillmeier, S.J.was Professor of Dogmatics at St. Georgen Theological Seminary in Frankfurt am Main, Germany from 1950-78. He was an expert theologian at the Second Vatican Council from 1962-65 and was named a cardinal-deacon of the Catholic Church in 1994.
Table Of Contents
V. 1. From The Apostolic Age To Chalcedon (451). 2d Rev. Ed. -- V. 2 From

Chalcedon To Justinian I .