Christian Apologetics (2nd Edition)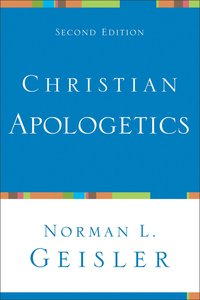 World-famous apologist Norman Geisler offers a new edition of his bestselling apologetics text, which has sold consistently for over thirty years (over 125,000 copies sold). This edition has been updated throughout and includes three new chapters. It offers readers a systematic approach that presents both the reasons and the methods for defending the claims of Christianity. Topics covered include deism, theism, Christ's authority, and the inspiration of the Bible.

- Publisher
You May Also Be Interested In
About "Christian Apologetics (2nd Edition)"
World-famous apologist Norman Geisler offers a new edition of his bestselling apologetics text, which has sold consistently for over thirty years (over 125,000 copies sold). This edition has been updated throughout and includes three new chapters. It offers readers a systematic approach that presents both the reasons and the methods for defending the claims of Christianity. Topics covered include deism, theism, Christ's authority, and the inspiration of the Bible.
- Publisher


Meet the Author
Norman L Geisler
Dr. Norman Geisler (Ph.D., Loyola University) is author or co-author of over sixty-eight books and hundreds of articles including Christian Apologetics; Apologetics in the New Age; Answering Islam; When Skeptics Ask; When Critics Ask; The Baker Dictionary of Apologetics; Handbook of Systematic Theology (4 volumes), Chosen But Free and When Cultists Ask. He has taught at the university and graduate level for forty eight years and has spoken or debated in all fifty states and in twenty-five countries. He is the co-founder and long-time Dean of Southern Evangelical Seminary, in Charlotte, North Carolina.
Table Of Contents
part 1: Methodology
1. Agnosticism
2. Rationalism
3. Fideism
4. Experientialism
5. Evidentialism
6. Pragmatism
7. Combinationalism
8. Formulating An Adequate Test For Truth
part 2: Theistic Apologetics
9. Deism
10. Finite Godism
11. Pantheism
12. Panentheism
13. Polytheism
14. Atheism
15. Theism
part 3: Christian Apologetics
16. Naturalism And The Supernatural
17. Objectivism And History
18. The Historical Reliability Of The New Testament
19. The Claim For The Deity And Authority Of Jesus Christ
20. The Evidence For The Deity And Authority Of Jesus Christ
21. The Inspiration And Authority Of The Bible
appendix
index