Christian Attitudes to War, Peace, and Revolution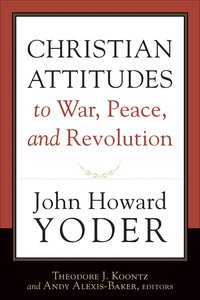 John Howard Yoder was one of the most important thinkers on just war and pacifism in the late twentieth century. This newly compiled collection of Yoder's lectures and writings on these issues describes, analyzes, and evaluates various patterns of thought and practice in Western Christian history. The volume, now made widely available for the first time, makes Yoder's stimulating insights more accessible to a broader audience and substantially contributes to ongoing discussions concerning the history, theology, and ethics of war and peace. Theologians and ethicists, students of Yoder's thought, and all readers seeking a better understanding of war and pacifism will value this work.

- Publisher
You May Also Be Interested In
About "Christian Attitudes to War, Peace, and Revolution"
John Howard Yoder was one of the most important thinkers on just war and pacifism in the late twentieth century. This newly compiled collection of Yoder's lectures and writings on these issues describes, analyzes, and evaluates various patterns of thought and practice in Western Christian history. The volume, now made widely available for the first time, makes Yoder's stimulating insights more accessible to a broader audience and substantially contributes to ongoing discussions concerning the history, theology, and ethics of war and peace. Theologians and ethicists, students of Yoder's thought, and all readers seeking a better understanding of war and pacifism will value this work.
- Publisher


Meet the Author
John Howard Yoder
John Howard Yoder taught at the Associated Mennonite Biblical Seminary (Elkhart, Indiana) and later was professor of theology and ethics at the University of Notre Dame. He is known especially for his influential book The Politics of Jesus.
Table Of Contents
John Howard Yoder Was One Of The Most Important Thinkers On Just War And Pacifism In The Late Twentieth Century. This Newly Compiled Collection Of Yoder's Lectures And Writings On These Issues Describes, Analyzes, And Evaluates Various Patterns Of Thought And Practice In Western Christian History. The Volume, Now Made Widely Available For The First Time, Makes Yoder's Stimulating Insights More Accessible To A Broader Audience And Substantially Contributes To Ongoing Discussions Concerning The History, Theology, And Ethics Of War And Peace. Theologians And Ethicists, Students Of Yoder's Thought, And All Readers Seeking A Better Understanding Of War And Pacifism Will Value This Work.