Christian: It's Not What You Think (Participant's Guide)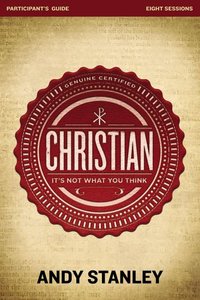 $13.99
$11.19
You Save: $2.80 (20%)
Paperback
What does it mean to be a Christian? Ask 100 people that question and you are likely to get 100 different answers. One reason people have such difficulty defining what a Christian should be is that the Bible never gives a definition. The followers of Jesus did not defer to themselves as Christians, it was a label placed on them from the outside. The early believers called themselves disciples, and the Bible is very clear in defining what a disciple looks like. Jesus gave his disciples one word that should define them. What if we as his followers embodied this one word? What if our behavior was so consistent with this word that folks around us were drawn to us---and to God? In Christian, you will learn: What one word should be descriptive of every disciple How Jesus followers should treat those who are outside the faith Why people love Jesus but can't stand his followers This study guide with help you dig deeper into the teachings from Andy Stanley on the corresponding DVD (sold separately) and includes discussion questions for individuals and/or small groups, between-session devotions, DVD teaching overviews, and a leader's guide.

- Publisher
You May Also Be Interested In
About "Christian: It's Not What You Think (Participant's Guide)"
What does it mean to be a Christian? Ask 100 people that question and you are likely to get 100 different answers. One reason people have such difficulty defining what a Christian should be is that the Bible never gives a definition. The followers of Jesus did not defer to themselves as Christians, it was a label placed on them from the outside. The early believers called themselves disciples, and the Bible is very clear in defining what a disciple looks like. Jesus gave his disciples one word that should define them. What if we as his followers embodied this one word? What if our behavior was so consistent with this word that folks around us were drawn to us---and to God? In Christian, you will learn: What one word should be descriptive of every disciple How Jesus followers should treat those who are outside the faith Why people love Jesus but can't stand his followers This study guide with help you dig deeper into the teachings from Andy Stanley on the corresponding DVD (sold separately) and includes discussion questions for individuals and/or small groups, between-session devotions, DVD teaching overviews, and a leader's guide.
- Publisher


Meet the Author
Andy Stanley
Andy Stanley is a pastor, communicator, author, and the founder of North Point Ministries, Inc. (NPM). Since its inception in 1995, North Point Ministries has grown from one campus to three in the Atlanta area, and has helped plant fourteen strategic partner churches throughout the United States. Each Sunday, over 20,000 adults attend worship services at one of NPM's three campuses, North Point Community Church, Browns Bridge Community Church, and Buckhead Church.
Andy's books include It Came From Within; Communicating for a Change; Making Vision Stick; Visioneering; Next Generation Leader and most recently The Grace of God. Andy lives in Alpharetta, Georgia, with his wife, Sandra, and their three children