Christian Mission in the Modern World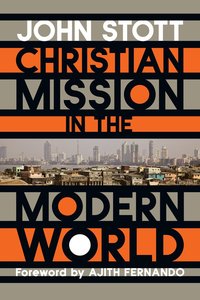 In recent years, the mission of the church has been defined in two almost exclusive ways. On the one hand are those who say the church must focus on evangelism and discipleship alone. On the other hand are those who advocate concentrating almost solely on societal reform.In this classic book, John Stott shows that Christian mission must encompass both evangelism and social action. He begins with careful definitions of five key terms--mission, evangelism, dialogue, salvation and conversion. Then, through a thorough biblical exploration of these concepts, Stott provides a model for ministry to people's spiritual and physical needs alike.Ultimately, Stott points to the example of Jesus, who modeled both the Great Commission of proclamation and the Great Commandment of love and service. This balanced, holistic approach to mission points the way forward for the work of the church in the world.

- Publisher
You May Also Be Interested In
About "Christian Mission in the Modern World"
In recent years, the mission of the church has been defined in two almost exclusive ways. On the one hand are those who say the church must focus on evangelism and discipleship alone. On the other hand are those who advocate concentrating almost solely on societal reform.In this classic book, John Stott shows that Christian mission must encompass both evangelism and social action. He begins with careful definitions of five key terms--mission, evangelism, dialogue, salvation and conversion. Then, through a thorough biblical exploration of these concepts, Stott provides a model for ministry to people's spiritual and physical needs alike.Ultimately, Stott points to the example of Jesus, who modeled both the Great Commission of proclamation and the Great Commandment of love and service. This balanced, holistic approach to mission points the way forward for the work of the church in the world.
- Publisher


Meet the Author
John Stott
The late Rev Dr. John Stott is known worldwide as a Bible teacher, writer, pastor and mission-leader. During a ministry that extended to seven decades, he authored many books including the best-selling Basic Christianity, Why I Am a Christian and The Cross of Christ ; he was also the editor, (and author of several volumes) of the Bible Speaks Today. In more recent years he was Rector Emeritus of All Souls Church, Langham Place, London; President of the London Institute for Contemporary Christianity; and Founder-President of the Langham Partnership International. He was awarded the CBE in the Queens 2006 New Year Honours. Stott was honored by Time magazine in 2005 as one of the "100 Most Influential People in the World."
Koorong - Editorial Review.