Christian Social Innovation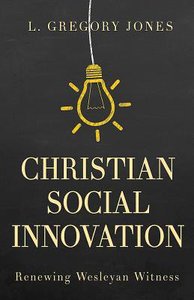 Everybody seems interested in innovation and entrepreneurship these days. Start-ups are generating new jobs, creating wealth and providing solutions to longstanding problems. People are also aware that old-line social institutions need innovative approaches that provide renewal, re-establish trust and cultivate sustainability.

- Publisher
You May Also Be Interested In
About "Christian Social Innovation"
Everybody seems interested in innovation and entrepreneurship these days. Start-ups are generating new jobs, creating wealth and providing solutions to longstanding problems. People are also aware that old-line social institutions need innovative approaches that provide renewal, re-establish trust and cultivate sustainability.
- Publisher


Meet the Author
L Gregory Jones
L. Gregory Jones (Ph.D., Duke University) is vice president and vice provost for global strategy and programs at Duke University in Durham, North Carolina. He previously served as dean of Duke Divinity School. He also serves as president of leadership education at Duke Divinity, and as professor of theology.


His books include Embodying Forgiveness: A Theological Analysis; Transformed Judgment: Toward a Trinitarian Account of the Moral Life; Everyday Matters: Intersections of Life and Faith; Resurrecting Excellence: Shaping Faithful Christian Ministry and most recently Forgiving As We've Been Forgiven: Community Practices for Making Peace (Resources for Reconciliation)
Koorong -Editorial Review.