Christianity and Religious Diversity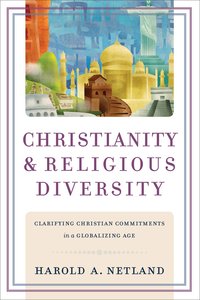 :This book explores how religions have changed in a globalized world and how Christianity is unique among them. Harold Netland, an expert in philosophical aspects of religion and pluralism, offers a fresh analysis of religion in today's globalizing world. He challenges misunderstandings of the concept of religion itself and shows how particular religious traditions, such as Buddhism, undergo significant change with modernization and globalization. Netland then responds to issues concerning the plausibility of Christian commitments to Jesus Christ and the unique truth of the Christian gospel in light of religious diversity. The book concludes with basic principles for living as Christ's disciples in religiously diverse contexts.

- Publisher
You May Also Be Interested In
About "Christianity and Religious Diversity"
:This book explores how religions have changed in a globalized world and how Christianity is unique among them. Harold Netland, an expert in philosophical aspects of religion and pluralism, offers a fresh analysis of religion in today's globalizing world. He challenges misunderstandings of the concept of religion itself and shows how particular religious traditions, such as Buddhism, undergo significant change with modernization and globalization. Netland then responds to issues concerning the plausibility of Christian commitments to Jesus Christ and the unique truth of the Christian gospel in light of religious diversity. The book concludes with basic principles for living as Christ's disciples in religiously diverse contexts.
- Publisher


Meet the Author
Harold Netland
Harold A. Netland (Ph.D.,Claremont Graduate School, where he studied under Professor John Hick) is professor of philosophy of religion and intercultural studies and the Naomi A. Fausch chair of missions at Trinity Evangelical Divinity School in Deerfield, Illinois. Prior to coming to Trinity, Dr. Netland was a missionary in Japan with the Evangelical Free Church of America. Dr. Netland's areas of expertise include religious pluralism, epistemology of religion, apologetics, and missions in East Asia. He is a member of the Evangelical Philosophical Society, the Evangelical Theological Society, and the Society of Christian Philosophers.
Dr. Netland's published works include Dissonant Voices: Religious Pluralism and the Question of Truth; Encountering Religious Pluralism: The Challenge to Christian Faith and Mission and Spirituality without God: Buddhist Enlightenment and Christian Salvation, as well as numerous articles in such journals as Religious Studies, Faith and Philosophy, and Missiology. He also co-edited Christianity and the Religions (William Carey Library).
Table Of Contents
:contents

introduction
part 1: Religion(s) In A Modern, Globalizing World
1. Rethinking Religion(s)
2. Secularization, Globalization, And The Religions
3. Buddhism In The Modern World
4. Jesus In A Global, Postcolonial World
part 2: Christian Commitments In A Pluralistic World
5. Can All Religions Be True?
6. On The Idea Of Christianity As The One True Religion
7. Religious Diversity And Reasons For Belief
8. Living With Religious Diversity As Jesus's Disciples