Christianity, Cults & Religions (Rose Bible Basics Series)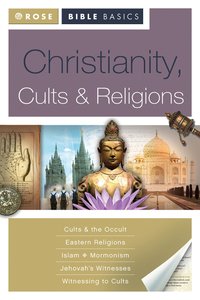 Includes information regarding - Christianity - Judaism -Islam - Buddhism - Hinduism - Mormonism - Unification Church - Jehovah's Witnesses - Christian Science - Scientology - Unity School of Christianity -New Age - Spiritualism - Hare Krishna - Armstrongism (latest updates) - Nichiren Shoshu Buddhism Baha'i World Faith - Transcendental Meditation (TM)
- Publisher
Rose Bible Basics: Christianity, Cults & Religions - know what you believe and why
Christianity, Cults & Religions
contains a side-by-side comparison of more than 40 world religions, cults and sects.
Christianity, Cults & Religions
is a well-researched introduction on comparative religions from a Christian viewpoint and will help you understand the teachings of Jesus and the Bible as well as learn the differences between other groups and beliefs. This is an excellent resource for people who have friends, coworkers, and neighbors of other faiths.
Christianity, Cults & Religions takes a close look at the following groups:
Anthroposophy
Bahai
Buddhism

Theravada (path of the elders)
Mahayana (greater vehicle)
Vajrayana (diamond vehicle)

Christian Science
Eastern Mysticism
Hare Krishna
Hinduism

Shaivism (theistic rather than impersonalistic
Shaktism (devotion to Shakti or the divine mother)
Vaishnavism (worship of Vishnu)

Islam
Jehovah's Witnesses
Judaism
Kabbalah
Mormonism (Latter-day Saints or Mormons)
Nation of Islam
New Age Movement
Nichiren Shoshu Buddhism
Scientology (Dianetics)
Sikhism (combining Hinduism with Islam)

Healthy, Happy, Holy (3HO)
Radha Soami (Eckankar and MSIA Movement for Spiritual Inner Awareness)

Theosophy
Transcendental Meditation (TM)
Unification Church (Sun Myung Moon)
Unity School
Wicca
Topics compared:
Founder, Date, Location
Authoritative Writings
Who is God?
Who is Jesus?
Who is the Holy Spirit?
What happens after death?
How does one gain Salvation?
Other beliefs and practices
Christianity, Cults & Religions is a combination of seven very popular pamphlets:
Christianity, Cults & Religions
Christianity, Cults & the Occult
Christianity & Eastern Religions
Islam & Christianity
10 Questions and Answers on Jehovah's Witnesses
10 Questions and Answers on Mormonism
10 Keys to Witnessing to Cults
Christianity, Cults & Religions
helps clarify the differences between various religions, cults, and religious movements and makes a great study guide for small groups, personal study, or Sunday school classes.
Also available for
Kindle
and for
iPhone/smartphones.
Christianity, Cults and Religions
general editor Paul Carden is a longtime specialist in the field of cults and new religions around the world. Mr. Carden is Executive Director of the Centers for Apologetics Research (CFAR), and he has devoted nearly 30 years of his life to cult-related research and outreach in Latin America, Africa, eastern Europe, and the former Soviet Union. Paul's articles have appeared in such publications as
Evangelical Missions Quarterly
,
East-West Church and Ministry Report
,
International Journal of Frontier Missions
, and
World Pulse
. He has served on the editorial board of the
Cultic Studies Review
and is contributing editor of the weekly
Apologia Report
.
- Publisher
You May Also Be Interested In
About "Christianity, Cults & Religions (Rose Bible Basics Series)"
Includes information regarding - Christianity - Judaism -Islam - Buddhism - Hinduism - Mormonism - Unification Church - Jehovah's Witnesses - Christian Science - Scientology - Unity School of Christianity -New Age - Spiritualism - Hare Krishna - Armstrongism (latest updates) - Nichiren Shoshu Buddhism Baha'i World Faith - Transcendental Meditation (TM)
- Publisher

Rose Bible Basics: Christianity, Cults & Religions - know what you believe and why
Christianity, Cults & Religions contains a side-by-side comparison of more than 40 world religions, cults and sects. Christianity, Cults & Religions is a well-researched introduction on comparative religions from a Christian viewpoint and will help you understand the teachings of Jesus and the Bible as well as learn the differences between other groups and beliefs. This is an excellent resource for people who have friends, coworkers, and neighbors of other faiths.


Christianity, Cults & Religions takes a close look at the following groups:
Anthroposophy
Bahai
Buddhism

Theravada (path of the elders)
Mahayana (greater vehicle)
Vajrayana (diamond vehicle)

Christian Science
Eastern Mysticism
Hare Krishna
Hinduism

Shaivism (theistic rather than impersonalistic
Shaktism (devotion to Shakti or the divine mother)
Vaishnavism (worship of Vishnu)

Islam
Jehovah's Witnesses
Judaism
Kabbalah
Mormonism (Latter-day Saints or Mormons)
Nation of Islam
New Age Movement
Nichiren Shoshu Buddhism
Scientology (Dianetics)
Sikhism (combining Hinduism with Islam)

Healthy, Happy, Holy (3HO)
Radha Soami (Eckankar and MSIA Movement for Spiritual Inner Awareness)

Theosophy
Transcendental Meditation (TM)
Unification Church (Sun Myung Moon)
Unity School
Wicca
Topics compared:
Founder, Date, Location
Authoritative Writings
Who is God?
Who is Jesus?
Who is the Holy Spirit?
What happens after death?
How does one gain Salvation?
Other beliefs and practices
Christianity, Cults & Religions is a combination of seven very popular pamphlets:
Christianity, Cults & Religions
Christianity, Cults & the Occult
Christianity & Eastern Religions
Islam & Christianity
10 Questions and Answers on Jehovah's Witnesses
10 Questions and Answers on Mormonism
10 Keys to Witnessing to Cults
Christianity, Cults & Religions helps clarify the differences between various religions, cults, and religious movements and makes a great study guide for small groups, personal study, or Sunday school classes.

Also available for Kindle and for iPhone/smartphones.

Christianity, Cults and Religions general editor Paul Carden is a longtime specialist in the field of cults and new religions around the world. Mr. Carden is Executive Director of the Centers for Apologetics Research (CFAR), and he has devoted nearly 30 years of his life to cult-related research and outreach in Latin America, Africa, eastern Europe, and the former Soviet Union. Paul's articles have appeared in such publications as Evangelical Missions Quarterly, East-West Church and Ministry Report, International Journal of Frontier Missions, and World Pulse. He has served on the editorial board of the Cultic Studies Review and is contributing editor of the weekly Apologia Report.

- Publisher


Other Titles In The "Rose Bible Basics" Series View All
$175.00




This item is a special order. Payment is by credit card only. Orders for this item cannot be cancelled or returned. Other edition is available. 9781596363281 0 Available.

Formats

$69.99




Order now to secure your copy when our stock arrives. Other edition is available. 9781596363281 0 Available. Expected to ship in 4 to 5 weeks from Australia.

Formats