Christianity the First 400 Years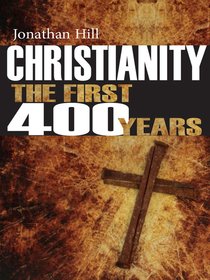 Today Christianity is the largest religion in the world, its influence felt in every corner of the globe. But where did this religion come from? How did it take shape and formulate its beliefs? This enthralling book takes us back to the beginnings, setting us in the world of the Roman Empire and assessing the dominant philosophies of the time. How was the New Testament written and determined? How, after the first century AD, did Christianity set out on the road to an intellectually coherent account of its faith? How did it relate to the other main religion that grew up at the same time - Gnosticism.

- Publisher
You May Also Be Interested In
About "Christianity the First 400 Years"
Today Christianity is the largest religion in the world, its influence felt in every corner of the globe. But where did this religion come from? How did it take shape and formulate its beliefs? This enthralling book takes us back to the beginnings, setting us in the world of the Roman Empire and assessing the dominant philosophies of the time. How was the New Testament written and determined? How, after the first century AD, did Christianity set out on the road to an intellectually coherent account of its faith? How did it relate to the other main religion that grew up at the same time - Gnosticism.
- Publisher


Meet the Author
Jonathan Hill
Jonathan Hill (Ph.D., National University of Singapore) previously worked as a subtitler for Sky News, Sky Sports and Channel Five, a Researcher for Prospect Pictures and Production Assistant for NHK Europe, where he was involved in the conception, writing and research of new television programmes and documentaries. Jonathan is also a freelance copy editor and proof reader, and especially enjoys working on Terry Pratchett novels. Jonathan is willing to talk about anything, but expresses a particular fondness for the Blues...
He is the author of The History of Christian Thought; Faith in the Age of Reason; What Has Christianity Ever Done for Us?; The Crucible of Christianity and The Big Questions
Koorong -Editorial Review.