Christians and Evolution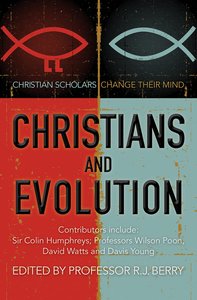 The issue of ?creation v. evolution? divides Christians, particularly evangelicals. It has proved a convenient stick for Professor Dawkins to beat the Church with; it has also been a stumbling block for young believers. The issue concerns how God acts in His world, and by extension how we should act in God's world. Professor R. J Berry assembles a wide range of distinguished contributors, all convinced, committed and orthodox Christian believers, each of whom has undertaken a conceptual journey, based on sound science and careful theology, from a creationist position to one in which God's creation and the processes of evolution are properly and credibly integrated.

- Publisher
You May Also Be Interested In
About "Christians and Evolution"
The issue of ?creation v. evolution? divides Christians, particularly evangelicals. It has proved a convenient stick for Professor Dawkins to beat the Church with; it has also been a stumbling block for young believers. The issue concerns how God acts in His world, and by extension how we should act in God's world. Professor R. J Berry assembles a wide range of distinguished contributors, all convinced, committed and orthodox Christian believers, each of whom has undertaken a conceptual journey, based on sound science and careful theology, from a creationist position to one in which God's creation and the processes of evolution are properly and credibly integrated.
- Publisher


Meet the Author
R J Berry
R.J. (Sam) Berry (DSc, FIBiol, FRSE) is Emeritus Professor of Genetics at University College, London. He is a former President of the Linnean Society, the British Ecological Society, the European Ecological Federation, the Mammal Society, and Christians in Science. For 20 years he served as a member of the General Synod of the Church of England, and in 1996 received the UK Templeton Award. He is the author of God and Evolution; God and the Biologist and God's Book of Works, and editor of Environmental Dilemmas; The Care of Creation; When Enough is Enough; Environmental Stewardship and most recently Real Scientists, Real Faith: 17 Leading scientists reveal the harmony between their science and their faith.
Koorong -Editorial Review.
Customer Reviews For "Christians and Evolution"
Write Your Own Review
Not convincing.
By Ibu Guru,

Feb 27 2018
My brother-in-law gave us this book to shake our faith in 6 day creation. The "science" arguments were so bizarre that I wondered how the editor could accept them. One example ... two human cells (preprogrammed with DNA from parents) turn into a human baby, so that shows that everything we see has evolved. Obviously God didn't create animals after their own kind with the ability to reproduce, like Genesis says. Huh? Since a certain type of cancer does the same thing to human cells as to chimp cells it means we have a common ancestor. Really? Don't humans also get bird flu, or cholera and tapeworm like pigs so were we birds and pigs before or after primates?? If god created the world over millions of years of suffering and error, we sure have a long time to wait for the new heaven and earth that will be incorruptable. Praise God, His word is reliable from the first verse and we don't have to be intimidated by the latest ever-changing theories of man. This book made me so sad that people will trust man-made theories on the strength of a single fossil, or faulty logic. Sin was defined as selfishness rather than breaking God's command and pride. Eve was deceived by Satan ..."Did God say? It is not true." and told to defy God. Sound familiar?
{{review.title}}
By {{review.author.name}},

{{review.reviewCreatedDate | date:'MMM dd yyyy'}}

{{reviewdescription}}
{{review.text}}
---