Christology, Ancient and Modern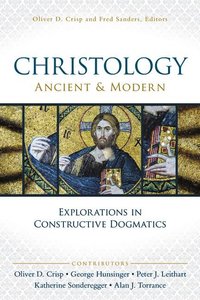 ?Christology was the central doctrine articulated by the early councils, and it remains the subject of vigorous theological investigation today. The doctrine of Christ is a field of broad ecumenical convergence, inviting theologians from all denominational settings to fruitful collaborative exploration. In the contemporary setting, it is especially crucial for theologians to investigate the scriptural witness afresh, to retrieve classical criteria and categories from the tradition, and to consider the generative pressure of soteriology for Christology proper. The first annual Los Angeles Theology Conference sought to make a positive contribution to contemporary dogmatics in intentional engagement with the Christian tradition. Christology, Ancient and Modern brings together conference proceedings, surveying the field and articulating the sources, norms, and criteria for constructive theological work in Christology.

- Publisher
You May Also Be Interested In
About "Christology, Ancient and Modern"
?Christology was the central doctrine articulated by the early councils, and it remains the subject of vigorous theological investigation today. The doctrine of Christ is a field of broad ecumenical convergence, inviting theologians from all denominational settings to fruitful collaborative exploration. In the contemporary setting, it is especially crucial for theologians to investigate the scriptural witness afresh, to retrieve classical criteria and categories from the tradition, and to consider the generative pressure of soteriology for Christology proper. The first annual Los Angeles Theology Conference sought to make a positive contribution to contemporary dogmatics in intentional engagement with the Christian tradition. Christology, Ancient and Modern brings together conference proceedings, surveying the field and articulating the sources, norms, and criteria for constructive theological work in Christology.
- Publisher


Meet the Authors
Oliver D Crisp
Oliver D. Crisp (Ph.D., King's College, University of London) is Lecturer in Theology at the University of Bristol. Crisp is an evangelical philosophical theologian who completed his doctoral studies under Paul Helm. Previously, he taught at the University of St. Andrews in Scotland (2002-2004), and held the Frederick J. Crosson Research Fellowship in the Center for Philosophy of Religion, University of Notre Dame, USA (2004-2005). He was visiting lecturer at Regent College, Vancouver lecturing on Christology.
His published works include Jonathan Edwards: Philosophical Theologian (Ashgate, 2003), edited with Paul Helm, bringing together state-of-the-art essays from leading theologians and philosophers from the USA and UK on Edwards; also published Jonathan Edwards and the Metaphysics of Sin (Ashgate, 2005) and An American Augustinian: Sin and Salvation in the Dogmatic Theology of William G. T. Shedd
Two volumes on Christology; Divinity and Humanity: the Incarnation Reconsidered (Cambridge, 2007) and God Incarnate: Explorations in Christology(T & T Clark, 2009).
Forthcoming works include An Essay on Original Sin (Oxford University Press, 2010); Analytic Theology, edited with Michael Rea (Oxford University Press, 2008); A Reader in Contemporary Philosophical Theology (Continuum, 2008); Retrieving Dogmatics: Essays in Reformed Theology (Paternoster, 2010) and Helm on Philosophy of Religion: Collected Essays of Paul Helm (Ashgate, 2010).
Koorong -Editorial Review.
George Hunsinger
Dr. George Hunsinger (PhD, Yale University) is McCord Professor of Systematic Theology at Princeton Theological Seminary and founder of the National Religious Campaign Against Torture. From 1997 to 2001, Hunsinger directed Princeton Seminary's Center for Barth Studies. He is the author of How to Read Karl Barth: The Shape of His Theology (Oxford) Philippians (Brazos Theological Commentary on the Bible) and Disruptive Grace: Studies in the Theology of Karl Barth (Eerdmans), and the editor of Torture Is a Moral Issue: Christians, Jews, Muslims, and People of Conscience Speak Out.
-Editorial Review- Koorong.
Peter Leithart
Peter J. Leithart (Ph.D., University of Cambridge) is senior fellow of theology and literature at New St. Andrews College and pastor of Trinity Reformed Church in Moscow, Idaho. He is the author of a number of books, including A House for My Name: A Survey of the Old Testament; Against Christianity, Solomon among the Postmoderns; The Promise of his Appearing (2 Peter) and 1 and 2 Kings (Brazos Theological Commentary on the Bible). He is also a contributing editor for Touchstone
Alan J Torrance
Alan J. Torrance (Dr Theol (1.0, summa cum laude) University of Erlangen-Nurnberg) is Professor of Systematic Theology at St Mary College, The University of St Andrews, Scotland, he is the author of Persons in Communion: An Essay on Trinitarian Description and Human Participation, The Doctrine Of God and Theological Ethics (with Douglas Spanner), Gospel and Gender: A Trinitarian Engagement With Being Male and Female in Christ (Studies in Theology and Sexuality) with Douglas A. Campbell, and most recently Scripture's Doctrine and Theology's Bible: How the New Testament Shapes Christian Dogmatics with Markus Bockmuehl.
Koorong -Editorial Review.
Katherine Sonderegger
Katherine Sonderegger is the William Meade Professor of Theology at Virginia Theological Seminary in Alexandria, Virginia. She is the author of That Jesus Christ Was Born a Jew: Karl Barth's "Doctrine of Israel" (1992).
Table Of Contents
Acknowledgments

Introduction (the Editors)

List Of Contributors

1. A Typology Of Modern Christologies: High, Middle, And Low--george Hunsinger

2. Desiderata For Models Of Hypostatic Union--oliver D. Crisp

3. We Saw His Glory: Implications Of The Sanctuary Christology Of John's Gospel--peter J. Leithart

4. The Humility Of The Son Of God--katherine Sonderegger

5. The Continuing Priesthood Of Christ: Implications And Challenges--alan J. Torrance