Churchless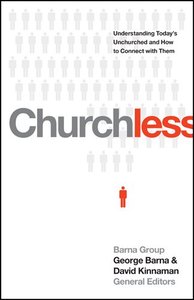 :Churchless people are all around us: among our closest loved ones, at our workplaces, in our neighborhoods. And more and more, they are becoming the norm: The number of churchless adults in the United States has increased by nearly 60 percent in the past decade. Yet the startling truth is that many of these people claim they are looking for a genuine, powerful encounter with God?but they just don?t find it in church. What are they (or we) missing? How can we better reach out to them? What can we say or do that would inspire them to want to join a community of faith? Containing groundbreaking new research from the Barna Group, and edited by bestselling authors George Barna (Revolution) and David Kinnaman (You Lost Me), Churchless reveals the results of a five-year study based on interviews with thousands of churchless men and women. Looking past the surface of church attendance to deeper spiritual realities, Churchless will help us understand those who choose not to be part of a church, build trust-based relationships with them, and be empowered to successfully invite them to engage.

- Publisher
You May Also Be Interested In
About "Churchless"
:Churchless people are all around us: among our closest loved ones, at our workplaces, in our neighborhoods. And more and more, they are becoming the norm: The number of churchless adults in the United States has increased by nearly 60 percent in the past decade. Yet the startling truth is that many of these people claim they are looking for a genuine, powerful encounter with God?but they just don?t find it in church. What are they (or we) missing? How can we better reach out to them? What can we say or do that would inspire them to want to join a community of faith? Containing groundbreaking new research from the Barna Group, and edited by bestselling authors George Barna (Revolution) and David Kinnaman (You Lost Me), Churchless reveals the results of a five-year study based on interviews with thousands of churchless men and women. Looking past the surface of church attendance to deeper spiritual realities, Churchless will help us understand those who choose not to be part of a church, build trust-based relationships with them, and be empowered to successfully invite them to engage.
- Publisher


Meet the Authors
George Barna
George Barna received a doctorate from Dallas Baptist University, worked in the Massachusetts state legislature and as a pollster and a campaign manager. George and his wife, Nancy, founded the Barna Research Group in 1984. In 2004, he re-engineered the for-profit corporation into The Barna Group, of which he is the Directing Leader. The firm analyzes American culture and creates resources and experiences designed to facilitate moral and spiritual transformation.Located in Ventura, California, The Barna Group provides primary research (through its Barna Research Group division); musical, visual and digital media (through BarnaFilms); printed resources (BarnaBooks); spiritual and leadership development for young people (The Josiah Corps); and church enhancement (Transformational Church Network).
To date, Barna has written 39 books, including best sellers such as Revolution, Transforming Children into Spiritual Champions, The Frog in the Kettle, and The Power of Vision. His most recent books include Revolutionary Parenting and Pagan Christianity?
The Barna Research division has served several hundred parachurch ministries and thousands of Christian churches throughout the country. It has conducted research for numerous parachurch organizations, such as the Billy Graham Evangelistic Association; World Vision; American Bible Society; Campus Crusade for Christ; Thomas Nelson Publishers; Zondervan; and Tyndale House Publishers.
David Kinnaman
David Kinnaman is president of The Barna Group, which provides research and resources that facilitate spiritual transformation in people's lives. Since joining Barna in 1995, David has designed and analyzed nearly five hundred studies for a variety of churches, nonprofits, and corporations. He and George Barna write a free research report published online at www.barna.org. David and his wife Jill have three children and live in California.