Ciao (#06 in On The Runway Series)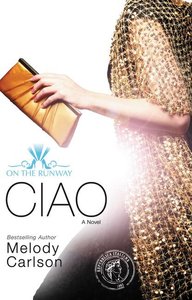 The sweet life might just turn sour. After the events in the Bahamas, Paige's engagement to designer Dylan Marceau is about to fall apart---and so is Paige. Erin's state of mind isn't much better. In addition to keeping Paige in check, Erin is dealing with Bryce's new TV career, as well as having to care for Fran during her chemo. A trip to Milan might be the break both girls need, but things only seem to get more complicated once they land in Italy. Dylan is also in Milan, and Paige's rekindled romance, combined with a new director, leaves Erin with more work on the show. Just when Erin can't take any more, she discovers a secret that could crush Paige. Clinging to God for direction, Erin must find the power to make a difficult choice, one that could not only hurt her sister but throw the show into turmoil.

- Publisher
You May Also Be Interested In
About "Ciao (#06 in On The Runway Series)"
The sweet life might just turn sour. After the events in the Bahamas, Paige's engagement to designer Dylan Marceau is about to fall apart---and so is Paige. Erin's state of mind isn't much better. In addition to keeping Paige in check, Erin is dealing with Bryce's new TV career, as well as having to care for Fran during her chemo. A trip to Milan might be the break both girls need, but things only seem to get more complicated once they land in Italy. Dylan is also in Milan, and Paige's rekindled romance, combined with a new director, leaves Erin with more work on the show. Just when Erin can't take any more, she discovers a secret that could crush Paige. Clinging to God for direction, Erin must find the power to make a difficult choice, one that could not only hurt her sister but throw the show into turmoil.
- Publisher


Meet the Author
Melody Carlson
Melody Carlson has published over ninety books for adults, children, and teens, with sales totaling more than two million and many titles appearing on the ECPA Bestsellers List. Several of her books have been finalists for, and winners of, various writing awards, including the Gold Medallion and the RITA Award. Some of her popular multi-volume series include Diary of a Teenage Girl and True Colours.
Other Titles In The "On The Runway" Series