Claudia, Wife of Pontius Pilate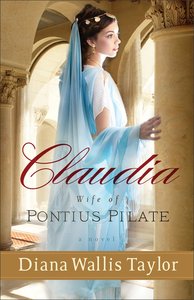 Claudia's life did not start easily. The illegitimate daughter of Julia, reviled and exiled daughter of Caesar Augustus, Claudia spends her childhood in a guarded villa with her mother and grandmother. When Tiberius, who hates Julia, takes the throne, Claudia is wrenched away from her mother to be brought up in the palace in Rome. The young woman is adrift--until she meets Lucius Pontius Pilate and becomes his wife. When Pilate is appointed Prefect of the troublesome territory of Judea, Claudia does what she has always done: she makes the best of it. But unrest is brewing on the outskirts of the Roman Empire, and Claudia will soon find herself and her beloved husband embroiled in controversy and rebellion. Might she find peace and rest in the teaching of the mysterious Jewish Rabbi everyone seems to be talking about?

Readers will be whisked through marbled palaces, dusty marketplaces, and idyllic Italian villas as they follow the unlikely path of a woman who warrants only a passing mention in one of the Gospel accounts. Diana Wallis Taylor combines her impeccable research with her flair for drama and romance to craft a tale worthy of legend.

- Publisher
You May Also Be Interested In
About "Claudia, Wife of Pontius Pilate"
Claudia's life did not start easily. The illegitimate daughter of Julia, reviled and exiled daughter of Caesar Augustus, Claudia spends her childhood in a guarded villa with her mother and grandmother. When Tiberius, who hates Julia, takes the throne, Claudia is wrenched away from her mother to be brought up in the palace in Rome. The young woman is adrift--until she meets Lucius Pontius Pilate and becomes his wife. When Pilate is appointed Prefect of the troublesome territory of Judea, Claudia does what she has always done: she makes the best of it. But unrest is brewing on the outskirts of the Roman Empire, and Claudia will soon find herself and her beloved husband embroiled in controversy and rebellion. Might she find peace and rest in the teaching of the mysterious Jewish Rabbi everyone seems to be talking about?

Readers will be whisked through marbled palaces, dusty marketplaces, and idyllic Italian villas as they follow the unlikely path of a woman who warrants only a passing mention in one of the Gospel accounts. Diana Wallis Taylor combines her impeccable research with her flair for drama and romance to craft a tale worthy of legend.
- Publisher


Meet the Author
Diana Wallis Taylor
Diana Wallis Taylor is a speaker for Stonecroft Ministries and is currently working toward her MA in biblical studies at Bethel Seminary. She has published many articles and contributed stories to several books, including Growing Old Ain't for Wimps, Mom Overboard and most recently Journey to the Well. Taylor lives in San Diego, California.