Cold Shot (#01 in Chesapeake Valor Series)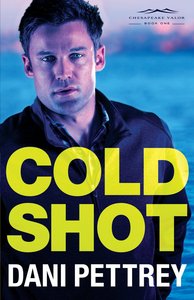 Dani Pettrey Launches a New Romantic Suspense Series

In college, Griffin McCray and his three best friends had their lives planned out. Griffin and Luke Gallagher would join the Baltimore PD. Declan Gray would head to the FBI and Parker Mitchell would go on to graduate school as a crime scene analyst. But then Luke vanished before graduation and their world--and friendships--crumbled.

Now Griffin is a park ranger at Gettysburg, having left life as a SWAT-team sniper when a case went bad. The job is mostly quiet--until the day he captures two relic hunters uncovering skeletal remains near Little Round Top. Griffin just wants the case to go away, but charming forensic anthropologist Finley Scott determines that the body is modern--a young social justice lawyer missing since spring--and all evidence points to the work of an expert sniper. When FBI agent Declan Gray takes over the case, past and present collide. Griffin soon realizes he'll need to confront some of the darkest days of his life if he--and those he cares about--are going to escape a downward spiral of murder that crosses continents.

- Publisher
You May Also Be Interested In
About "Cold Shot (#01 in Chesapeake Valor Series)"
Dani Pettrey Launches a New Romantic Suspense Series

In college, Griffin McCray and his three best friends had their lives planned out. Griffin and Luke Gallagher would join the Baltimore PD. Declan Gray would head to the FBI and Parker Mitchell would go on to graduate school as a crime scene analyst. But then Luke vanished before graduation and their world--and friendships--crumbled.

Now Griffin is a park ranger at Gettysburg, having left life as a SWAT-team sniper when a case went bad. The job is mostly quiet--until the day he captures two relic hunters uncovering skeletal remains near Little Round Top. Griffin just wants the case to go away, but charming forensic anthropologist Finley Scott determines that the body is modern--a young social justice lawyer missing since spring--and all evidence points to the work of an expert sniper. When FBI agent Declan Gray takes over the case, past and present collide. Griffin soon realizes he'll need to confront some of the darkest days of his life if he--and those he cares about--are going to escape a downward spiral of murder that crosses continents.
- Publisher


Meet the Author
Dani Pettrey
Dani Pettrey is a wife, homeschooling mom, and author. She feels blessed to write inspirational romantic suspense because it incorporates so many things she loves--the thrill of adventure, nail biting suspense, the deepening of her characters' faith, and plenty of romance. She and her husband reside in Maryland with their two teenage daughters. Visit her website at www.danipettrey.com. A
Customer Reviews For "Cold Shot (#01 in Chesapeake Valor Series)"
Write Your Own Review
Great!
By Harsh,

Aug 03 2016
The introduction was a bit awkward as you were left trying to put the pieces together of exactly who was who, as Dani didnt actually introduce the characters until later on in the story. In saying that, she dived straight into a small climax which had you hooked from page 1. There were a lot of characters involved in the story, but she developed the main ones really well and I'm sure they will be focused on individually in later series. While of course there were main characters, there wasn't really one or two main characters that the book focused on but Dani took a more holistic approach to the story. 
It was captivating and full of suspense and I can't wait until the next book comes out! 
---
Awesome
By Bri,

Aug 03 2016
Such an awesome read! Full of suspense and mystery. You were kept hanging until the very end. Dani introduced the characters in such a way that you were falling in love with them all and wanted their dreams to come true and their differences to be resolved. It was probably more of an introductory novel as opposed to a first in series. Not because there wasn't a good story line, but rather because Dani focuses on a group of characters rather than just a specific one or two, but i did not feel as though that detracted from the quality of the story. 
---
Good read
By Joy,

Jul 22 2016
Good start to a new series. Really focuses on overcoming fear, leaning on God's strength and the power of forgiveness. Looking forward to book 2!
---
Great intro to a new series
By Alyce,

Jun 14 2016
This book is fast paced from the very beginning and hard to put down. I was able to connect with each of the characters, through found the book to be more about Finley Scott rather than Griffin and his buddies (as the description suggests). Still a wonderful story and it sets the stage perfectly for future installments in the series. 
---
Romance! Thrilling!
By Rochelle,NSW,

Mar 09 2016
Just finished Cold Shot, book 1 in the Chesapeake Valor series. Was really good! I quickly befriended Finley Scott and it wasn't long before Griffin McCray and his friends had me turning the pages.
I will wait for the next one but totally hooked to find out what Luke Gallagher has been up to and getting to know Kate better.
You'll enjoy this if you've enjoyed Dani Pettreys other books.
{{review.title}}
By {{review.author.name}},

{{review.reviewCreatedDate | date:'MMM dd yyyy'}}

{{reviewdescription}}
{{review.text}}
---
Other Titles In The "Chesapeake Valor Series" Series View All