Colossians - Discover the New You (New Community Study Series)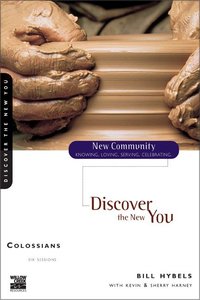 This cutting-edge series is a high-impact tool for experiencing the transforming power of God's Word. You'll explore life-changing topics from a biblical perspective in community with others in your small group. Challenging questions will encourage you to reflect on Scripture and its impact on your life, both as an individual and as part of a community of Christ followers. From Zondervan
You May Also Be Interested In
About "Colossians - Discover the New You (New Community Study Series)"
This cutting-edge series is a high-impact tool for experiencing the transforming power of God's Word. You'll explore life-changing topics from a biblical perspective in community with others in your small group. Challenging questions will encourage you to reflect on Scripture and its impact on your life, both as an individual and as part of a community of Christ followers. From Zondervan
- Koorong

In this single volume of the high-impact series for experiencing the transforming power of God's Word in the context of community, you'll learn how to let God mold your life. 6 SESSIONS
- Publisher

96 Pages
- Publisher

Our lives are like lumps of clay on a potter's wheel. Form, function, and beauty appear as God, the Potter, shapes us with his hands. He is in the business of molding our common lives -- even the ugly parts -- into something wonderful! In Colossians, you and your small group will discover how to place your lives in the secure hands of God. If you long to experience newness of life, this study will point the way. If you desire to see God mold and shape your spiritual life, home, workplace, church, and relationships, Colossians will teach you the pathway to a whole new you.
- Publisher


Meet the Author
Bill Hybels
Bill Hybels is the founding and senior pastor of Willow Creek Community Church in South Barrington, Illinois, one of the largest and most influential churches in North America, and the chairman of the board for Willow Creek Association. He convened The Global Leadership Summit in 1995, following a God-given prompting to help raise and develop the spiritual gift of leadership for the local church.

Both visionary and passionate about seeing every local church reach its full God-given potential, he speaks around the world on strategic issues related to leadership, evangelism, and church growth. An exceptional communicator, he is a best-selling author of more than 20 books on personal evangelism, marriage and especially on the subject of Christian leadership, including Just Walk Across the Room, Courageous Leadership and the newly released, The Power of a Whisper: Hearing God and Having the Guts to Respond.

Bill received a bachelor's degree in Biblical Studies and an honorary Doctorate of Divinity from Trinity College in Deerfield, IL. He and his wife, Lynne, have two adult children and one grandson.
Other Titles In The "New Community Study" Series View All
$15.99




Order now to secure your copy when our stock arrives. 0 Available. Expected to ship in 7 to 8 weeks from Australia.

Formats

$16.99




Order now to secure your copy when our stock arrives. eBook is Available. 0 Available. Expected to ship in 7 to 8 weeks from Australia.

Formats