Come to the Table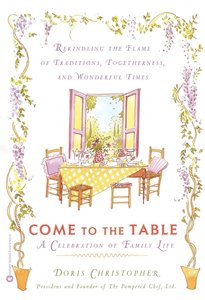 Gathering the family around the kitchen table every night at six for dinner is not as easy as it used to be -- yet it is as necessary as ever for creating the enduring strength of family. "Come to the Table" provides inspiration and encouragement for families to share the old-fashioned values that hold them together through difficult times and create memories that will last forever. With chapters ranging from "Holidays" to "Sundays, " and "Reunions" to "Winter Comforts, " readers will discover inspiring stories and fantastic suggestions for reclaiming mealtime as family time -- and creating wonderful traditions that will be passed down through generations.

- Publisher In this helpful and heartfelt book, Doris Christopher shows families how to honor and celebrate one of our most beloved traditions: togetherness around the family table. An American entrepreneur, who is also an enterprising American mom, Christopher serves up a blend of inspiration and practical advice, revealing the ways dozens of others have transformed their tables into vehicles for strengthening family life. Book jacket.

- Publisher
You May Also Be Interested In
About "Come to the Table"
Gathering the family around the kitchen table every night at six for dinner is not as easy as it used to be -- yet it is as necessary as ever for creating the enduring strength of family. "Come to the Table" provides inspiration and encouragement for families to share the old-fashioned values that hold them together through difficult times and create memories that will last forever. With chapters ranging from "Holidays" to "Sundays, " and "Reunions" to "Winter Comforts, " readers will discover inspiring stories and fantastic suggestions for reclaiming mealtime as family time -- and creating wonderful traditions that will be passed down through generations.
- Publisher

In this helpful and heartfelt book, Doris Christopher shows families how to honor and celebrate one of our most beloved traditions: togetherness around the family table. An American entrepreneur, who is also an enterprising American mom, Christopher serves up a blend of inspiration and practical advice, revealing the ways dozens of others have transformed their tables into vehicles for strengthening family life. Book jacket.
- Publisher


Meet the Author
Doris Christopher
DORIS CHRISTOPHER is the founder and CEO of The Pampered Chef, Ltd. She has been featured in numerous publications, including "Fortune," "Working Woman," and "The Wall Street Journal," She lives in the suburban Chicago area.