Comentario Bblico Con Aplicacin Nvi 2 Pedro Y Judas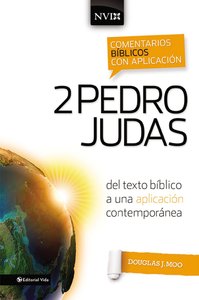 Los apóstoles Pedro y Judas no hubieran hecho postmodernistas buenos. Ellos insisten que hay tal cosa como un absoluto, una verdad no negociable, además de error y decepción. Ellos hablan de falsas doctrinas y aquellos que las ensenan como si ellos realmente creen que la eternidad se sostiene en balance y que Dios, lejos de encojar sus hombres como un buen relativista, toma los asuntos de la verdad y la autoridad espiritual muy seriamente. Hoy día, el lenguaje ardiente e impenitente de 2da de Pedro y Judas puede abrir nuestros ojos a verdades espirituales extremas. Como otros muy pocos escritos apostólicos, estas dos cartas nos sacuden para despertarnos a la necesidad de abrazar el verdadero evangelio y trasmitirlo sin distorsionarlo. El mensaje es tan contracultural como es posible, y profundamente oportuno.

- Publisher
You May Also Be Interested In
About "Comentario Bblico Con Aplicacin Nvi 2 Pedro Y Judas"
Los apóstoles Pedro y Judas no hubieran hecho postmodernistas buenos. Ellos insisten que hay tal cosa como un absoluto, una verdad no negociable, además de error y decepción. Ellos hablan de falsas doctrinas y aquellos que las ensenan como si ellos realmente creen que la eternidad se sostiene en balance y que Dios, lejos de encojar sus hombres como un buen relativista, toma los asuntos de la verdad y la autoridad espiritual muy seriamente. Hoy día, el lenguaje ardiente e impenitente de 2da de Pedro y Judas puede abrir nuestros ojos a verdades espirituales extremas. Como otros muy pocos escritos apostólicos, estas dos cartas nos sacuden para despertarnos a la necesidad de abrazar el verdadero evangelio y trasmitirlo sin distorsionarlo. El mensaje es tan contracultural como es posible, y profundamente oportuno.
- Publisher


Meet the Author
Douglas J Moo
Douglas J. Moo (Ph.D., St Andrews University, Scotland) is Blanchard professor of New Testament at Wheaton College, he was formerly director of the Ph.D. in Theological Studies program at Trinity Evangelical Divinity School. He is the co-author of An Introduction to the New Testament and the author of commentaries on James (Tyndale New Testament Commentary Series and Pillar New Testament Commentary), Romans (three volumes New International Commentary Series, New International Version Application Commentary and Encountering Biblical Studies series), 2 Peter, Jude (New International Version Application Commentary), Colossians, Philemon (Pillar New Testament Commentary), his most recent commentraies are Hebrews (Zondervan Exegetical Commentary) and Galatians (Baker Exegetical Commentary).
Koorong -Editorial Review.