Coming Home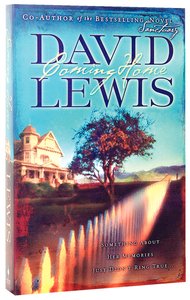 Growing up in Palmer Lake, Colorado, Jessica Lehman and Andy McCormick were practically inseparable. But when tragedy struck, their childhood friendship was torn apart.

Now, more than a decade later, Jessie's search for the truth about her family has brought the two together again. With Andy's support, Jessie must summon the courage to face the spectre that has haunted her dreams and tormented her waking hours. Yet she fears what her quest may uncover.

Andy, however, fears something far different. As his feelings for Jessie begin to grow beyond friendship, how will he ever manage to protect her - not from her past. . . but from her future?


- Publisher Jessica Lehman, world-weary and despondent, takes an impulsive detour to visit her hometown and discovers more than she anticipated. A single purchase in a quaint gift shop becomes the catalyst for reviving long-buried memories of her tragic childhood, mixed with happier memories of her ?rst sweetheart, who had always promised to "rescue her from dragons." Her childish hope for the fairy tale "happy ending" had been dashed years ago, and Jessie now ?nds herself at a crossroads, ?ghting her last battle alone. Can she renew her faith in a God who seemingly abandoned her? Is the deepest desire of her heart???to love and be loved???lost forever?

- Publisher A world-weary woman's bittersweet return home may lead to a peace and triumph she never imagined. Drama with a hint of mystery.

- Publisher
You May Also Be Interested In
About "Coming Home"
Growing up in Palmer Lake, Colorado, Jessica Lehman and Andy McCormick were practically inseparable. But when tragedy struck, their childhood friendship was torn apart.

Now, more than a decade later, Jessie's search for the truth about her family has brought the two together again. With Andy's support, Jessie must summon the courage to face the spectre that has haunted her dreams and tormented her waking hours. Yet she fears what her quest may uncover.

Andy, however, fears something far different. As his feelings for Jessie begin to grow beyond friendship, how will he ever manage to protect her - not from her past. . . but from her future?

- Publisher

Jessica Lehman, world-weary and despondent, takes an impulsive detour to visit her hometown and discovers more than she anticipated. A single purchase in a quaint gift shop becomes the catalyst for reviving long-buried memories of her tragic childhood, mixed with happier memories of her ?rst sweetheart, who had always promised to "rescue her from dragons." Her childish hope for the fairy tale "happy ending" had been dashed years ago, and Jessie now ?nds herself at a crossroads, ?ghting her last battle alone. Can she renew her faith in a God who seemingly abandoned her? Is the deepest desire of her heart???to love and be loved???lost forever?
- Publisher

A world-weary woman's bittersweet return home may lead to a peace and triumph she never imagined. Drama with a hint of mystery.
- Publisher


Meet the Author
David Lewis
David Lewis, an accomplished keyboard artist and piano teacher, was born in Minnesota and raised in the Midwest. He met his wife, Beverly, in Colorado, where they make their home in the foothills of the Rocky Mountains.