Compassion Without Compromise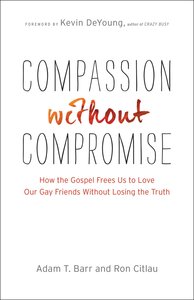 :Loving, Biblical Answers on Homosexuality

How is the Bible's teaching on homosexuality "Good News" to a world that increasingly finds that message intolerable? In their role as pastors, Adam Barr and Ron Citlau have seen how this issue can tear apart families, friendships, and even churches. In Compassion Without Compromise, they combine biblical answers about homosexuality with practical, real-world advice on how to think about and discuss this issue with those you care about. They also tell the story of Ron's personal journey from sexual brokenness to healing.

The authors bring sensitivity, humor, and pastoral winsomeness to the most controversial topic of our day. This book will offer an honest but inviting message to readers: those who embrace the Gospel can experience true freedom.

- Publisher
You May Also Be Interested In
About "Compassion Without Compromise"
:Loving, Biblical Answers on Homosexuality

How is the Bible's teaching on homosexuality "Good News" to a world that increasingly finds that message intolerable? In their role as pastors, Adam Barr and Ron Citlau have seen how this issue can tear apart families, friendships, and even churches. In Compassion Without Compromise, they combine biblical answers about homosexuality with practical, real-world advice on how to think about and discuss this issue with those you care about. They also tell the story of Ron's personal journey from sexual brokenness to healing.

The authors bring sensitivity, humor, and pastoral winsomeness to the most controversial topic of our day. This book will offer an honest but inviting message to readers: those who embrace the Gospel can experience true freedom.
- Publisher


Meet the Authors
Adam Barr
Adam T. Barr is the Pastor of Teaching Ministries at Corinth Reformed Church and President of Borderlands, a ministry that equips church and campus ministries to disciple Next Generation leaders. He has earned degrees from Hope College, Western Theological Seminary, and Trinity Evangelical Divinity School and studied at Westminster Theological Seminary. He updated, edited and contributed to the Zondervan Illustrated Commentary: One-Volume Illustrated Edition ed. F. F. Bruce.
Ron Citlau
Ron graduated from University of California, Riverside and Western Theological Seminary. He has served in ministry positions in Southern California and Kansas City. He is the pastor of Calvary Church in Orland Park, IL, part of the RCA (Reformed Church of America). <BR><BR>Ron struggled with same-sex attraction his whole life and has worked with and walked alongside many others who have struggled with sexual brokenness, as well as equipping pastoral leaders to serve those dealing with sexual sin. He also worked with Andy Comiskey, producing curriculum on sexual healing now used by Desert Strea