Compelled By Love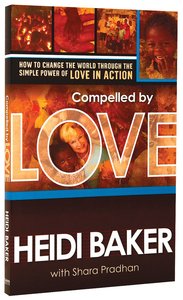 In 1995 Heidi and Rolland Baker gave away everything they had and traveled to the war-torn, poverty-stricken country of Mozambique. Compelled by Love chronicles their journey, giving readers a glimpse of authentic Christian community by taking a fresh look at the Beatitudes and sharing the pain of some of the poorest people in the world. It will change lives as readers put into practice the teachings of Jesus as expounded and illustrated by the Bakers' incredible life and ministry.

- Publisher In Compelled by Love, Heidi Baker gives you a glimpse of total dependence and authentic Christian community by taking a fresh look at the Beatitudes. In the war-torn, poverty-stricken country of Mozambique, she and her husband have experienced God's miraculous provisions and witnessed the transformed hearts of people caught in desperate life-or-death situations. Join them and discover the reality of God's kingdom here on Earth. For anyone wondering if they could truly live a life of radical love... For anyone wondering if the Beatitudes mean anything... For anyone wondering how to follow Jesus all the way... Book jacket.

- Publisher
You May Also Be Interested In
About "Compelled By Love"
In 1995 Heidi and Rolland Baker gave away everything they had and traveled to the war-torn, poverty-stricken country of Mozambique. Compelled by Love chronicles their journey, giving readers a glimpse of authentic Christian community by taking a fresh look at the Beatitudes and sharing the pain of some of the poorest people in the world. It will change lives as readers put into practice the teachings of Jesus as expounded and illustrated by the Bakers' incredible life and ministry.
- Publisher

In Compelled by Love, Heidi Baker gives you a glimpse of total dependence and authentic Christian community by taking a fresh look at the Beatitudes. In the war-torn, poverty-stricken country of Mozambique, she and her husband have experienced God's miraculous provisions and witnessed the transformed hearts of people caught in desperate life-or-death situations. Join them and discover the reality of God's kingdom here on Earth. For anyone wondering if they could truly live a life of radical love... For anyone wondering if the Beatitudes mean anything... For anyone wondering how to follow Jesus all the way... Book jacket.
- Publisher


Meet the Author
Heidi Baker
Heidi and Rolland Baker, natives of Southern California, served as missionaries in Indonesia and Hong Kong before following God's call eight years ago to Mozambique. Facing overwhelming need, the Bakers have seen God provide miraculously for many hundreds of children through their ministry, and many more people through over five thousand churches that their mission has planted in ten countries.
Customer Reviews For "Compelled By Love"
Write Your Own Review
Powerful transformative
By Fiona,

Apr 15 2017
The words of this book carry the very heartbeat of Jesus.  Heidi shares details of her journey (and adventures) with God - the miracles, the pain, the love.  This book will build your faith and touch your heart in a very special way.  Have an open heart as you read it and let Jesus speak to you through this book. 
---
Living life God's way
By Anne,

Dec 09 2014
This is a book that encourages, does not demand, life change. Looking at things from a different perspective. Heidi writes from her own experiences and encourages you that you too can make a difference. I find reading books by Heidi Baker helpful to keep my eyes on God and who He is and what He wants. I hope you too will enjoy reading it.
---
Compelled by Love
By Lizzy,

Oct 24 2014

I want to live a life Compelled by Love, like Heidi Baker, a missionary in Africa who just pours out God's love.  Her life has a motto to 'stop for the one', even though she's a crazy lady who has stopped counting the amount of people God's raised from the dead through her, how many blind eyes have been healed, how many deaf ears heard.  The story goes though that when she first started going to villages, she would announce that God wanted to heal blind eyes, call everyone forward and pray for them . . . and nothing would happen, except the angry villagers would start stoning her and the team.   She had a promise from God and she cared, and she pushed through and came back, and back and back and God started acting mightily as she obeyed and followed Him.    

I sometimes wonder though whether I would have kept coming back, or run back to my safe compound when that first rock was thrown.  


Heidi's written a book called, Compelled by Love and it unpacks the sermon on the mount in the most radical of ways, challenging everything you ever thought life and love were about.  It's not something that we could ever live on our own.  We need God's grace, His supernatural empowering for life.   

---
Overflowing Love
By Sharon,

Apr 30 2013
I bought this book because of it's title as I felt in need of encouragement to be more loving in my life. Also knowing the ministry of Heidi Baker I trusted that the Holy Spirit would lead me to receive from Him through reading her book. That's exactly what happened! Heidi's revelation of walking in the Love of God is articulated with passion and simplicity. Easy to receive when you have a hungry heart for the reality of Jesus ruling your life. This is life changing, revival food for the soul that takes a while to digest. The amazing testimonies throughout show us what it really means to be a disciple of Jesus in the everyday supernaturally. The generous, self-sacrificing spirit of the authors overflowing with the joy of the Lord is infectious, inviting us to participate in God's Kingdom work right here, right now. Christ-centred quotes from Mother Theresa interspersed with deeply moving offerings from the Beatitudes were inspirational.  If you are worn out from trying hard to serve the Lord, this is spiritual refreshment for you! If you want to have your Christian walk seriously shaken  brought into line with God's purposes, then read this book! Incredibly rich devotion.
---
Come and drink
By Matthew Davis,

May 18 2009
I am reading this book for the third time in 6 months. Heidi says things that sound - well quaint on the first reading, but time and again they come alive, as if they are saturated by the spirit and are just waiting for a heart thats ready. If she says it, she really means it - pondering one paragraph frequently leads to worship and tears. Its fresh food if you're hungry, and a feast if you're starving for a kingdom beyond your wildest expectations.
{{review.title}}
By {{review.author.name}},

{{review.reviewCreatedDate | date:'MMM dd yyyy'}}

{{reviewdescription}}
{{review.text}}
---