Conduct Gospel-Centered Funerals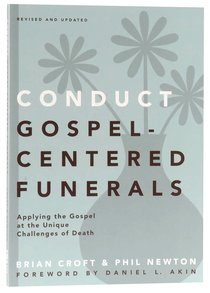 The phone rings: 'Pastor, can you do my mother's funeral?' Or, 'Please help us---our baby just died.' Death comes unexpectedly, giving you two to three days of time to prepare a sermon---in the midst of caring for a grieving family. This helpful book walks a pastor through the logistics of memorial services, burials, and working with funeral homes using the four P's: Plan, Prepare, Preach, and Perform. It shows how to magnify Christ and the gospel in the midst of all the necessary details, demands, and the sorrow that surrounds the death of a loved one. The Practical Shepherding series of books provides pastors and ministry leaders with advice and practical help to do the work of pastoral ministry in a local church. In Conduct Gospel-Centered Funerals, experienced pastors Brian Croft and Phil A. Newton offer readers a concise guide to conducting funerals that glorify God and offer a timely message of hope.

- Publisher
You May Also Be Interested In
About "Conduct Gospel-Centered Funerals"
The phone rings: 'Pastor, can you do my mother's funeral?' Or, 'Please help us---our baby just died.' Death comes unexpectedly, giving you two to three days of time to prepare a sermon---in the midst of caring for a grieving family. This helpful book walks a pastor through the logistics of memorial services, burials, and working with funeral homes using the four P's: Plan, Prepare, Preach, and Perform. It shows how to magnify Christ and the gospel in the midst of all the necessary details, demands, and the sorrow that surrounds the death of a loved one. The Practical Shepherding series of books provides pastors and ministry leaders with advice and practical help to do the work of pastoral ministry in a local church. In Conduct Gospel-Centered Funerals, experienced pastors Brian Croft and Phil A. Newton offer readers a concise guide to conducting funerals that glorify God and offer a timely message of hope.
- Publisher


Meet the Authors
Brian Croft
Brian Croft graduated from Indiana University in 1997 with a BA in Sociology and did some graduate work at The Southern Baptist Theological Seminary. He has served in pastoral ministry in some manner for over 12 years and is currently in his 5th year as Senior Pastor of Auburndale Baptist Church in Louisville, Kentucky, USA. He and his wife, Cara, have 4 children: Samuel, Abby, Isabelle and Claire. His hobbies include sports (golf, tennis, racketball), playing music (piano and guitar), reading (especially biographies and American history), teaching self-defense classes and teaching his children sports and music.
Phil A Newton
Phil A. Newton (D.Min., Fuller Theological Seminary; M.Div., New Orleans Baptist Theological Seminary) is senior pastor at South Woods Baptist Church in Memphis, Tennessee, where he has been since 1987. In ministry for more than thirty years, he also serves as adjunct professor at several schools, including Crichton College in Memphis. Phil and his wife, Karen, live in Germantown, Tenn.
Table Of Contents
Brian's Preface Phil's Preface Introduction 1. Plan 2. Prepare 3. Preach 4. Perform Appendices