Connecting (With Discussion & Study Guide)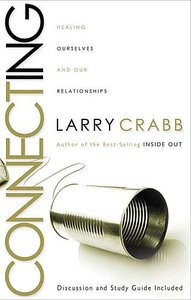 In his most significant book to date, Dr. Larry Crabb expands on his lifelong work in the field of psychotherapy to adopt a groundbreaking, but biblical, approach to healing the deep wounds of the soul - an approach that centres around building intimate, healing mini-communities in our lives and churches.

Dr. Crabb envisions a day when communities of God's people - ordinary Christians whose lives connect as husband to wife, brother to sister, friend to friend - will accomplish most of the healing that we now depend on mental health professionals to provide.

God has deposited within us the power to heal soul-disease and that power is released to do its work as we relate to each other in revolutionary new ways. In challenging, practical language, Dr. Crabb shows us how.

This revised and updated edition now includes a full workbook for those who want to better learn how to connect with the hearts and souls of those around them. Perfect for group or individual study.


- Publisher
You May Also Be Interested In
About "Connecting (With Discussion & Study Guide)"
In his most significant book to date, Dr. Larry Crabb expands on his lifelong work in the field of psychotherapy to adopt a groundbreaking, but biblical, approach to healing the deep wounds of the soul - an approach that centres around building intimate, healing mini-communities in our lives and churches.

Dr. Crabb envisions a day when communities of God's people - ordinary Christians whose lives connect as husband to wife, brother to sister, friend to friend - will accomplish most of the healing that we now depend on mental health professionals to provide.

God has deposited within us the power to heal soul-disease and that power is released to do its work as we relate to each other in revolutionary new ways. In challenging, practical language, Dr. Crabb shows us how.

This revised and updated edition now includes a full workbook for those who want to better learn how to connect with the hearts and souls of those around them. Perfect for group or individual study.

- Publisher


Meet the Author
Larry Crabb
Dr. Larry Crabb is a well-known psychologist, seminar speaker, Bible teacher, author and founder/director of New Way Ministries. He is also Scholar in Residence at Colorado Christian University and serves as Spiritual Director for the American Association of Christian Counsellors. His many popular books include Inside Out, Finding God, Connecting, The Safest Place on Earth, The Papa Prayer, SoulTalk and most recently Real Church: Does it exist? Can I find it?