Conservatives, Liberals, and the Fight For America's Future (Ebook Shorts)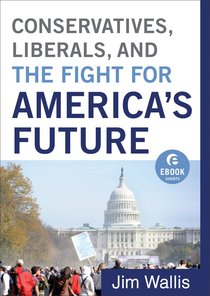 There is a war going on in our nation's political discourse. Polarizing labels--left/right, Republican/Democrat, young/old, rich/poor, traditional/progressive--define and divide us. And in the process we've lost a vision for the common good.

Jim Wallis believes our life together can be better. And he thinks both conservatives and liberals have something to offer in finding answers to today's complex problems. Personal responsibility and social responsibility are equally important: we must make good individual choices and also care for our neighbors. Wallis explores the role government can play in promoting the good of society, showing how its balanced presence can make a difference in the lives of the poor and vulnerable, and he offers hope for a more respectful conversation. He suggests making "Ten Personal Decisions for the Common Good" as you envision a more hopeful future.

This is a selection from The (Un)Common Good: How the Gospel Brings Hope to a World Divided.

- Publisher
You May Also Be Interested In
About "Conservatives, Liberals, and the Fight For America's Future (Ebook Shorts)"
There is a war going on in our nation's political discourse. Polarizing labels--left/right, Republican/Democrat, young/old, rich/poor, traditional/progressive--define and divide us. And in the process we've lost a vision for the common good.

Jim Wallis believes our life together can be better. And he thinks both conservatives and liberals have something to offer in finding answers to today's complex problems. Personal responsibility and social responsibility are equally important: we must make good individual choices and also care for our neighbors. Wallis explores the role government can play in promoting the good of society, showing how its balanced presence can make a difference in the lives of the poor and vulnerable, and he offers hope for a more respectful conversation. He suggests making "Ten Personal Decisions for the Common Good" as you envision a more hopeful future.

This is a selection from The (Un)Common Good: How the Gospel Brings Hope to a World Divided.
- Publisher


Meet the Author
Jim Wallis
Jim Wallis is the author of the "New York Times" bestseller "God's Politics", which electrified Americans disenchanted with how the Right had co-opted all talk about integrating religious values into our politics by offering an alternative voice. Wallis is a leading figure at the crossroads of religion and politics in America today, the author of eight books, and the founder of Sojourners, a global faith and justice network. He is a public theologian, an internationally renowned speaker and preacher, a faith-based activist, husband, and father to two young boys, and a Little League baseball cC
Table Of Contents
There Is A War Going On In Our Nation's Political Discourse. Polarizing Labels--left/right, Republican/democrat, Young/old, Rich/poor, Traditional/progressive--define And Divide Us. And In The Process We've Lost A Vision For The Common Good.

Jim Wallis Believes Our Life Together Can Be Better. And He Thinks Both Conservatives And Liberals Have Something To Offer In Finding Answers To Today's Complex Problems. Personal Responsibility And Social Responsibility Are Equally Important: We Must Make Good Individual Choices And Also Care For Our Neighbors. Wallis Explores The Role Government Can Play In Promoting The Good Of Society, Showing How Its Balanced Presence Can Make A Difference In The Lives Of The Poor And Vulnerable, And He Offers Hope For A More Respectful Conversation. He Suggests Making "ten Personal Decisions For The Common Good" As You Envision A More Hopeful Future.

This Is A Selection From the (un)common Good: How The Gospel Brings Hope To A World Divided.