Contagious Generosity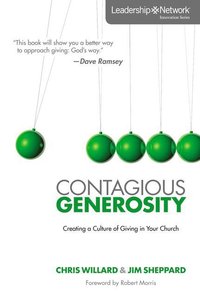 What does it look like when pastors cultivate a culture of generosity in the church by actively teaching and mentoring people in the spiritual act of giving? It's generosity that's contagious. A growing number of leaders are beginning to discover that there are key factors that make some churches thrive with abundant resources while others struggle with shrinking budgets. Jim Sheppard and Chris Willard have spent years consulting with church leaders across a broad spectrum of church settings and have gathered their observations into this resource, part of the Leadership Network Innovations Series. Contagious Generosity highlights the best practices gleaned from real-life church leadership situations and shows how church leaders can effectively cultivate a culture of generous giving in the local church. It explains why some churches are experiencing unexplainable ministry growth and unprecedented church funding ... even in the midst of tough economic times.

- Publisher
You May Also Be Interested In
About "Contagious Generosity"
What does it look like when pastors cultivate a culture of generosity in the church by actively teaching and mentoring people in the spiritual act of giving? It's generosity that's contagious. A growing number of leaders are beginning to discover that there are key factors that make some churches thrive with abundant resources while others struggle with shrinking budgets. Jim Sheppard and Chris Willard have spent years consulting with church leaders across a broad spectrum of church settings and have gathered their observations into this resource, part of the Leadership Network Innovations Series. Contagious Generosity highlights the best practices gleaned from real-life church leadership situations and shows how church leaders can effectively cultivate a culture of generous giving in the local church. It explains why some churches are experiencing unexplainable ministry growth and unprecedented church funding ... even in the midst of tough economic times.
- Publisher


Meet the Authors
Chris Willard
Chris Willard has more than 20 years of experience in professional ministry leadership. He is a graduate of the University of Massachusetts and has an MBA from Belhaven College. He is a frequent speaker at retreats and conferences across the country including FamilyLife's Weekend to Remember marriage conference. Before joining LN at the start of 2007, he was the Executive Pastor of Discovery Church in Orlando. Currently, Chris serves as the director of development for OneHundredX and is the director of Leadership Network's Rapid Growth and Generous Churches Leadership Communities. He lives in
James Sheppard
Jim Sheppard is CEO and principal of Generis, a consulting firm committed to accelerating generosity toward God-inspired vision for churches, church plants and multi-site churches across all denominations..andnbsp; Since 1992, he has been working with churches and ministry organizations to develop stewardship and generosity. He is an avid student of generosity and is passionate about spreading it throughout the church so Kingdom projects get fully resourced. Jim is a proven leader and inspirational speaker. He is one of the leading consultants in the field of raising funds for churches and minA
Ben Stroup
Ben Stroup is a writer, blogger, and consultant. His previous books include "Church Giving Matters". He and his wife have two sons and live in Nashville, Tennessee.