Contextualizing the Faith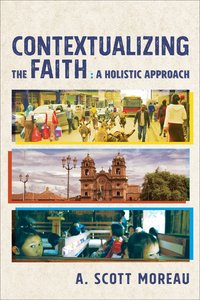 This major statement by a leading missiologist represents a lifetime of wrestling with a topic every cross-cultural leader must address: how to adapt the universal gospel to particular settings. This comprehensive yet accessible textbook organizes contextualization, which includes "everything the church is and does," into seven dimensions. Filled with examples, case studies, and diagrams and conversant with contemporary arguments and debates, it offers the author's unique take on the challenge of adapting the faith in local cultures.

- Publisher
You May Also Be Interested In
About "Contextualizing the Faith"
This major statement by a leading missiologist represents a lifetime of wrestling with a topic every cross-cultural leader must address: how to adapt the universal gospel to particular settings. This comprehensive yet accessible textbook organizes contextualization, which includes "everything the church is and does," into seven dimensions. Filled with examples, case studies, and diagrams and conversant with contemporary arguments and debates, it offers the author's unique take on the challenge of adapting the faith in local cultures.
- Publisher


Meet the Author
A Scott Moreau
A. Scott Moreau (D.Miss., Trinity Evangelical Divinity School) is professor of missions and intercultural studies at Wheaton College Graduate School. He is the general editor of the Evangelical Dictionary of World Missions. Gary R. Corwin is associate editor of Evangelical Missions Quarterly, special representative with SIM (Serving in Mission), and a visiting lecturer at Reformed Theological Seminary. Gary B. McGee (Ph.D., St. Louis University) is professor of church history and Pentecostal studies at the Assemblies of God Theological Seminary.
Table Of Contents
This Major Statement By A Leading Missiologist Represents A Lifetime Of Wrestling With A Topic Every Cross-cultural Leader Must Address: How To Adapt The Universal Gospel To Particular Settings. This Comprehensive Yet Accessible Textbook Organizes Contextualization, Which Includes "everything The Church Is And Does," Into Seven Dimensions. Filled With Examples, Case Studies, And Diagrams And Conversant With Contemporary Arguments And Debates, It Offers The Author's Unique Take On The Challenge Of Adapting The Faith In Local Cultures.