Cora Villa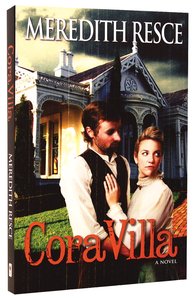 It's all arranged: Marriage to a man she's never met.

Garrison Stewart is looking forward to the day when his daughter, Cora, will be wed to his former neighbour's son, just as had been arranged fifteen years ago. But that arrangement had been made before Cora had grown up, before the Stewarts had immigrated to Australia, and before Cora had fallen in love with someone else.

Now, Cora is forced to choose between the love of her father and the love of a mysterious stranger...one who is all too secretive about his past...

A new historical romance that examines duty, deceit and desire in 19th century Victoria, from Australian author Meredith Resce.

- Publisher
You May Also Be Interested In
About "Cora Villa"
It's all arranged: Marriage to a man she's never met.

Garrison Stewart is looking forward to the day when his daughter, Cora, will be wed to his former neighbour's son, just as had been arranged fifteen years ago. But that arrangement had been made before Cora had grown up, before the Stewarts had immigrated to Australia, and before Cora had fallen in love with someone else.

Now, Cora is forced to choose between the love of her father and the love of a mysterious stranger...one who is all too secretive about his past...

A new historical romance that examines duty, deceit and desire in 19th century Victoria, from Australian author Meredith Resce.

- Publisher
- Koorong


Meet the Author
Meredith Resce
South Australian author Meredith Resce has been writing since 1991, with 18 published titles to her credit. Apart from writing, Meredith also takes the opportunity to speak to groups on issues relevant to relationships and emotional and spiritual growth. She was also a co-writer and co-producer in the 2007 feature film production, 'Twin Rivers'. With her husband, Nick, Meredith has worked in ministry since 1983. Meredith and Nick have one daughter and two sons.


Media
Customer Reviews For "Cora Villa"
Write Your Own Review
Very Good Australian Historical
By Iola,

Dec 06 2012
Cora Stewart has known since she was six years old that it was arranged that she would marry Andrew Bennett, unite their families and leave Geelong, Australia, to live in England. But she has never been in favour of the plan, and it has long been a bone of contention between her and her father. Now her mother is dead, her father is ill, and she feels obligated to obey her father and end her relationship with Nicholas Waldron. Despite her reservations about the arranged marriage, she agrees that her father can contact the Bennetts, and that she will do her best to comply with his wishes. 

In the beginning, Cora is quite unlikeable (although she still seems to attract plenty of male attention, to her father's chagrin). She is headstrong and independent (much like her father), but while he thinks he knows his daughter, his image of her is idealistic, not realistic. But as she is challenged over her attitude towards Ben Charles, and discovers another, less pleasant, side to Nicholas, she begins to change. 
The story is told in omniscient point of view, which gives it rather a distant feel at times, but also enables us to see the characters as they are, without their personalities being filtered through their own perceptions or the perceptions of others. While omniscient viewpoint is currently out of favour as a fictional device, Cora Villa shows that it can be effective when done well, without the moralising interjections that some authors favour, yet using the technique to show different sides to an argument and to foreshadow future events.  There are a few too many adverbs, exclamation marks and a few typos, but overall, this is a very enjoyable story with a healthy mix of romance and suspense. 

Thanks to Meredith Resce for providing a free ebook for review. 
---
Recommended...
By Penelope McCowen,

Jun 14 2012
Reading Cora Villa by Meredith Resce was an absolute delight.   The story wove itself around me as I read, immersing me in an era long gone, and journeying with me through the joys and the intrigues of life in early Australia.  With just the right blend of mystery and romance, Cora Villa can claim a place on the bookshelf of the un-putdownable.   It both promises and delivers, and I look forward to the next Resce read... and the next...


---
Arranged Marriage
By Michelle ,

May 18 2012
 I loved this book It was predictable the main character Cora was someone I had lovehate feelings towards and at times I wanted to shake many of the characters But it made me feel it made me think and it consumed me from the minute I began reading until days after I'd finished
Seriously imagine if you knew from a young age your parents had already decided who you would marry Arranged marriages still happen in our world today Some say it works fine and for others it turns into disaster

---
Good Historical read
By Ausjenny,

Jan 05 2012
I just finished this book and loved it. The inspiration for this story came from a house Corio Villa near Geelong. The house is the inspiration for the house in Cora Villa the rest is fiction. But after reading this book I want to see this house. The story revolves around Cora who was promised to Andrew Bennett when she was 6 years old. The book starts just after the death of her mother and her father determined she marry Andrew. Cora doesn't like the idea of an arranged marriage, she wants to choose her own husband and this is what she and her father clash about.
I loved the book and the different characters. Once again I would love to talk more about the story and some of the things that happen that I really enjoyed but I don't want to give away any of the storylines. Having said this there were areas of the book I really appreciated one in-particular as it took me back to my own childhood and something we use to do at Christian Endeavour. This book takes place early in the 19 century and if you enjoy historical books I am sure you will enjoy this story. 
{{review.title}}
By {{review.author.name}},

{{review.reviewCreatedDate | date:'MMM dd yyyy'}}

{{reviewdescription}}
{{review.text}}
---